Taking the
Scenic Route
Charles Thomas Tucker III, LMT, DC2B
Sherman College Student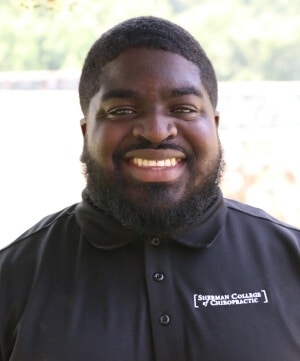 When embarking on a new journey, would you rather take the road often traveled – the familiar, the norm – or would you rather take the exciting, more rewarding, scenic route? 
At Sherman College of Chiropractic, you get that very opportunity, to not just take the basics, or simply what's required, but to enhance your experience as a student. The administrative staff and professors here at Sherman believe that students should be provided the best education possible to fulfill their passion and become the best doctors of chiropractic. 
To accomplish this, along with an extensive curriculum, the college offers electives so students can learn more about the philosophy, build their knowledge on the science behind it all, and perfect and enhance the art of chiropractic.
The professional degree program at Sherman College is very demanding, with set course sequence over 14 quarters or three and one-half calendar years. Within those 14 quarters, students are given the opportunity to take electives to supplement the already extraordinary curriculum provided by Sherman College. This wide range of electives includes different chiropractic techniques and methods of analysis to proficiently locate, analyze and correct vertebral subluxations. 
Vice President for Academic Affairs Joseph J. Donofrio D.C., '94, A.C.P., believes that offering courses in different technique and analysis helps build on an already solid foundation, helping students become well-rounded and giving them a wider exposure for clinical decisions. "We want to be known as good adjusters and to be more specific (as chiropractors)," he explained.
"Here at Sherman," Dr. Donofrio said, "we dig deep into the core techniques and introduce others, so students can consider alternative approaches and ideas. This sharpens their thinking skills."
When asked about adding more techniques or analysis systems, Dr. Donofrio said,"We add classes all the time. In that process, we follow our college's mission, check to see if there is enough interest among students, and then search to find experts to build and teach the class." Generally, the college needs to be sure it can enroll at least 10 students to keep an elective course viable.
Some of the techniques and analysis systems offered at Sherman College are Gonstead, Blair Analysis, X-ray Positioning and Adjusting, Advanced Knee Chest Technique, Network Spinal Analysis, Pediatric Adjusting Technique, Thompson Technique, Pierce Results System, Instrument Adjusting, Torque Release Technique and others.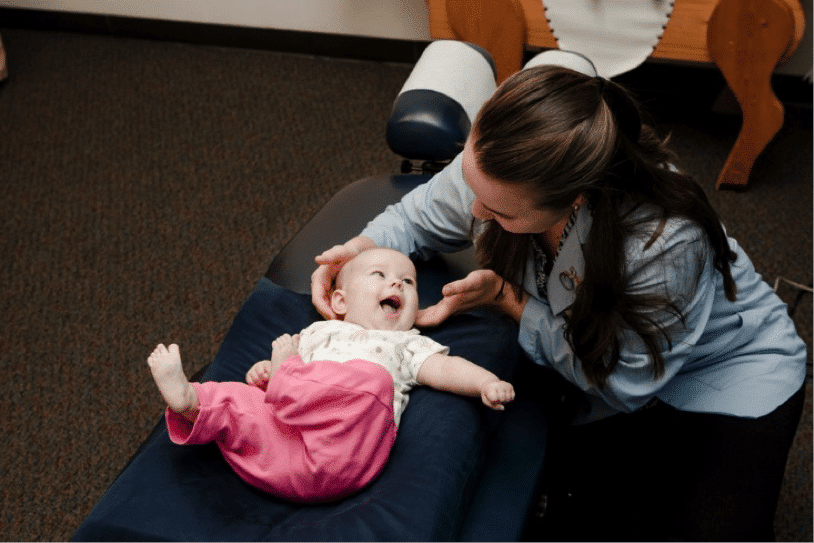 Popularity waxes and wanes from quarter to quarter, but the most popular elective offered is Pediatric Adjustment Technique, Donofrio said, followed by Pierce Results System, Network Spinal Analysis, and Torque Release Technique.
Sherman Professor Ron Castellucci, D.C., A.C.P., teaches classes like Palpation I and II, and is the instructor of Pediatric Adjusting Technique, along with Dean of Clinical Sciences Armand Rossi, D.C. Both are members of the International Chiropractic Pediatric Association (ICPA) and teach programs for that organization as well.
Dr. Castellucci believes that offering electives like Pediatric Adjusting Technique help Sherman stand out as a college. "Lack of classes like these," he said, "results in lack of skills necessary within the profession."
When asked about his Pediatric Adjusting Technique class, Dr. Castellucci noted that class is always full, every quarter. The elective is now offered every quarter instead of every other quarter as it had been in previous years. And In 2016, the college approved integrating much of this popular elective into the core curriculum. "The popularity (of the course) stems from everyone wanting to know how to adjust children and prenatal moms and babies," he said.
Dr. Castellucci also mentioned that "the class offers Webster Technique, posture analysis of infants and leg checks, all of which are an adaptation of what we already do, but just done with an infant's spine."
Electives can be taken once students complete courses that are offered in earlier quarters and other prerequisite(s), if any, are completed. Students typically add electives right before entering clinic and while in the clinic. Students are required to complete 55 hours of these classes before graduating.
With classes like Pediatric Adjusting full every quarter, students are obviously eager to add to their skills and knowledge of the profession with other techniques classes and analysis systems. It is clear these classes, along with the regular curriculum, are crucial to the success of students becoming the best chiropractors and fulfilling the college's vision of "Adjusting the World for a Better Future."