Ensuring critters benefit from

chiropractic care

, too:
Maria McElwee, D.C.
by Beverly Knight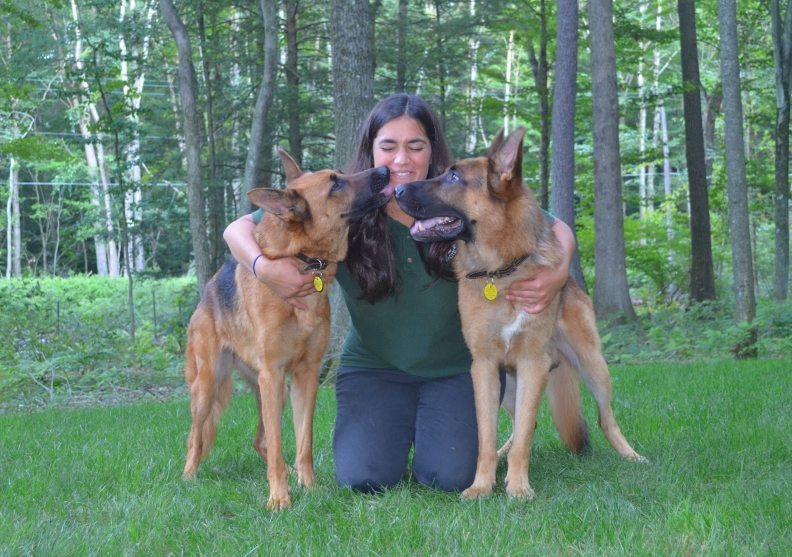 Maria McElwee
Maria McElwee, D.C., '14, has always had a love and passion for two things: chiropractic and animals. Her dream-come-true is that after graduating from Sherman she has been able to successfully marry those two passions in her career.
McElwee grew up in Conyngham, PA. Her mother, Joanne Gallagher, D.C., '82, and her uncle, John Degenhart, D.C., '80, ensured that she grew up "with the chiropractic lifestyle." In fact, one of her earliest memories as a child is that she would pretend to "adjust" family members. And she would always dress as a chiropractor on career days in grade school. "I loved everything about it," she says.
But it was the love of animals that permeated her young life. "I think that was instilled by my parents, especially my dad," she says. "They taught my siblings and me to always be compassionate and caring. Life was to be respected." She was the kid who, while walking to the school bus in the morning would pick up all the earthworms off the road after it had rained so they wouldn't be run over by cars. And she clearly remembers almost getting her thumb broken protecting a spider that someone was trying to smash with a dictionary.
Her father, a carpenter, would bring home animals that had been uprooted or injured on the job site and she would nurse them back to health and take care of them until they could survive on their own. "My parents would always tell me that I had a bond with animals that they had never seen before, and I didn't think anything of it." She had barn cats and one of her pet chickens would even hike with her, she says, adding, "I never had normal pets, but I always had an understanding with animals."
McElwee completed her undergraduate studies at Bloomsburg University in Pennsylvania. Because she knew she wanted to go to chiropractic school, she chose a degree program that would include the prerequisites through the core classes or electives, graduating with a B.S. in exercise science. And, best of all, attending Bloomsburg meant that she could continue doing 4-H and drill team with her horse.
Her family connection to Sherman was a factor in choosing the school for her chiropractic education. She had grown up attending Lyceum with her family and had great memories of the time spent at Sherman when she was younger. Those memories, coupled with Sherman's dedication to personal attention, led her to the decision to attend, a decision she never regretted. "They always gave you the one-on-one attention when you needed it and made you feel like family," McElwee says of the instructors who were always available and helped her successfully complete her degree program.
Selling her horse, the animal she calls the love of her life was the hardest thing she had to do as she was preparing to enroll at Sherman, even though she knew she would still be able to see him on occasion. "Animals were always a big part of my life," McElwee says, explaining that giving up her horse broke her heart. "During chiropractic school, it was hard with all the strays that were around. I was always helping with the animals when I could," she remembers. "My friends would pick at me because I acquired quite the 'furbaby' family by the end of school. We are one happy family and I wouldn't have it any other way," she says of the animals that have always been her love and her passion.
"I had an interest in working with animals through chiropractic, even though at Sherman, I focused on people," McElwee explains. As graduation approached, she decided to look into animal chiropractic as an option and saw that it would be possible to make her dream a reality. Following that dream, McElwee enrolled at Options for Animals College of Animal Chiropractic in Wellsville, KS, after graduating from Sherman in fall 2014. She completed her coursework there, becoming internationally certified in animal chiropractic. She is quick to point out, though, that she maintains her "human" license while living her dream of working with animals.
That understanding she developed with animals as a child serves her well in her professional life. Critter Chiropractic, her mobile animal chiropractic practice, located in Sugarloaf, PA, close to her family home, allows her to go to horse barns to keep people from having to trailer their animals. "People appreciate me coming to the house when their cat or dog needs care or is nervous to travel," she says of the successful practice that she has grown in the area. "I see myself down the road having a farm where people can bring their animals to receive chiropractic care and other beneficial care by holistic practitioners," she says of her dreams for the future. "But I will always offer mobile services for the care of animals that need it."
When she started her work with animals, she discovered that they benefit from chiropractic care in the same ways that people do. "They are exposed to physical, chemical and emotional stressors of daily living, and that has an effect on their nervous systems," she explains, adding that caring for animals is made difficult by the fact that they are so good at hiding pain and compensating for it, something they do instinctively. "They are silent sufferers and amaze me every day with what they endure. It is the best feeling in the world when I am able to give their body what it needs to start the healing process." The reward for her is seeing animals relax and "get the joy and brightness in their eyes again." It continually amazes her that the animals relax and trust her to work on them.
Though all of her patients touch her heart, she remembers some of whom chiropractic care was life-changing. One, a little corgi in a cart supporting his hind side was one of her first patients. Everyone had given up hope on him except his owner, who thought that chiropractic could help him. In the beginning, he couldn't walk or support himself in the hind end. After the first appointment, he started to support himself and stand. After the second one, he started to walk and improvement continued. "To see him trotting around would bring tears to my eyes. He amazed me with the healing within his body. Every day is wonderful when I see changes like this, big or small," McElwee says of the rewards she reaps in her professional life.
Her advice to other students about to embark on their professional lives is to follow their dreams and passions, no matter where they lead. And, she says, "Don't let anyone tell you that you cannot do it. Anything is possible when you put all of your heart and soul into it. That will always shine through. The most important thing, though, is to believe in yourself, because that is all that matters in the end."
*Previously published in Sherman Magazine Fall 2016