Autopista Americas Visits
Sherman College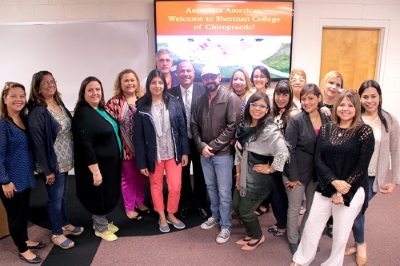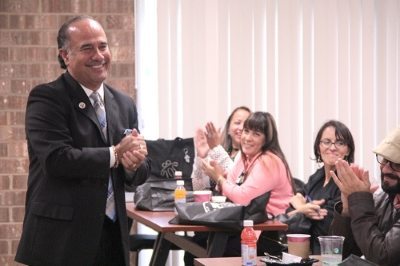 Twenty college career counselors and staff members with AutopistaAmericas were treated to the Sherman College experience during a half-day visit on June 5. They also visited CollegeTown neighbors Spartanburg Methodist College for the afternoon.
AutopistaAmericas is an academic consulting firm that holds career/college fairs around the world; Sherman participates each summer at a large event in Puerto Rico. Additionally, they conduct "reverse" tours, bringing together a group of counselors from the US, Canada, Puerto Rico and the Virgin Islands to tour universities in the United States.
The Sherman College half-day experience included talks from President Edwin Cordero, D.C., our executive vice president, and our provost; presentations about health care professions and the doctor of chiropractic curriculum; a mini campus tour; a student panel discussion; and an overview of admission requirements. The half-day on campus concluded with lunch, and then the group moved on to SMC.
Autopista is Spanish for highway; the organization's website says it "advance(s) this term to mean 'The Highway to Education' in connecting all of the Americas." AutopistaAmericas has conducted tours for guidance counselors to more than 500 different colleges and universities for over 20 years.