Sherman Alumna

Mary Babian, D.C., '78, Honored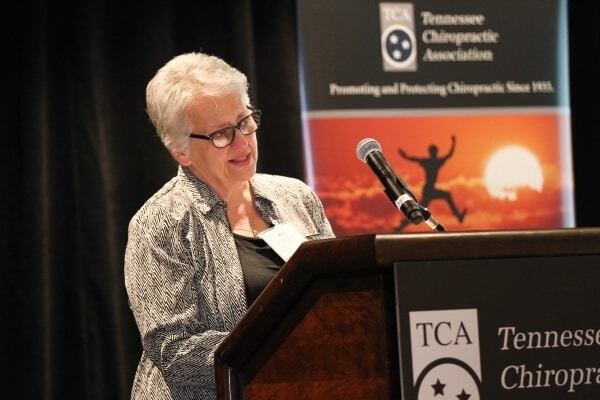 The Tennessee Chiropractic Association (TCA) has honored Mary Babian, D.C., '78, J.D., of Chattanooga, Tennessee with their highest recognition, 2017 Conference Honoree.
"The TCA is proud to honor Dr. Babian for all she has contributed to her over 39 years of servant-leadership," Tiffany Stevens, executive director of the TCA, said. "Sharing her gifts as a doctor, an educator, and advocate, she is steadily building a legacy to benefit future generations."
Dr. Babian's first connection to the spine and its impact on health was through an injury sustained at age 14 while at work at a neighborhood service station. After years of living with discomfort, her injury flared up severely while in her sophomore year at the University of Tennessee at Chattanooga (UTC). A road trip to visit her grandmother in Iowa left her barely able to move. Spurred by her family, she sought chiropractic care and remembers waking up the next day in disbelief that the pain was gone. It was life-changing, setting her on a new course to help others through chiropractic.
After completing her Bachelor of Science degree at UTC in 1974, she attended Sherman College of Chiropractic in Spartanburg, SC. There she excelled and benefitted from the experiences of dedicated mentors, graduating with her Doctor of Chiropractic degree in 1978. She continues to give back to her alma mater and has been named a Lifetime Member of the Sherman College Board of Regents.
On August 21, 1978, she established her private practice in Red Bank, TN, and this year she entered her 40th year of caring for her community, an achievement she celebrated while viewing the Great American Eclipse. Her chiropractic legacy spans three generations of patients and crosses county lines. She is blessed by family, friends, and loyal staff members, the longest running supporter being her mom who turns 98 this year!
Dr. Babian attended Nashville School of Law and earned her Doctor of Jurisprudence degree in 2000. She accepted the opportunity to share her strengths as an instructor for the Ethics, Jurisprudence, and Risk Management course required of Tennessee doctors of chiropractic, bringing her own unique blend of humor, experience, and legal expertise. Throughout her 18 years in this role, Dr. Babian has helped hundreds of newly licensed doctors to master this essential education, starting them on the road to success.
To support efforts on behalf of her profession, Dr. Babian has been a consistent TCA Gold Member and TCA Eagle Society member. She has also served on the TCA Ethics Committee. In 2004, she was recognized by her peers with the James R. Cole Heritage Award for her noteworthy contributions.
Dr. Babian actively serves members of her community, both two- and four-legged, from having co-chaired multiple Red Bank Jubilees and speaking for local organizations to advocating for animals as a Member Emeritus on the Tennessee Human Animal League Board of Directors, a local no-kill animal shelter, and taking rescued pets into her home.
"If we elevate one other person, we're all better for it," said Dr. Babian reflecting on her years of service. "One burden we can take from someone who is tired serves us all! That must be true, I feel my best when I share my luck and love!"
The award was presented to Dr. Babian by TCA President Dr. R.J. Crawford at the Southern Chiropractic Conference hosted by TCA in Franklin, TN, on August 19, 2017.
Source: Tennessee Chiropractic Association