Sherman College

Names Rising Star:
Wendy Parker, D.C.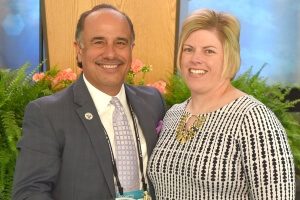 Rising Star Award
Matthews, NC, chiropractor Wendy Parker, D.C., was recently named Rising Star by Sherman College of Chiropractic in Spartanburg, SC. The Rising Star Award is given to recent Sherman College graduates who have demonstrated exceptional achievements and service in the community.
Dr. Parker has been in practice for about a year and a half. After graduating from Sherman College in March 2015, Dr. Parker purchased an existing practice in Matthews, NC from a doctor who was relocating to Colorado. Along with business partner and colleague, Dr. Mike Spring, they opened their doors on October 1, 2015.
Since that time, they have been steadily growing the business, which previously supported one doctor, to now support both doctors. In the first 18 months of practice, they have incorporated Corrective Care processes and procedures including introducing technology such as the Subluxation Station and other programs. The office features cash, subscription-based, weekly and biweekly wellness care plans to make consistent care more accessible and convenient for patients.
Dr. Parker is affiliated with the Matthews Chamber of Commerce and the Union County Business Association and actively involved with the Siskey Branch YMCA in the town of Matthews. She is excited to continue serving her community through the gift of chiropractic.
Sherman College named its 2017 award recipients May 4-6 as part of Lyceum, an annual continuing education and homecoming event attended by hundreds of chiropractors and students throughout the U.S. and internationally. Lyceum is held on the college's campus in Spartanburg, SC, and involves three days of seminars, special events, and other programs.
###
Sherman College of Chiropractic provides students with a comprehensive chiropractic education, preparing them to enter the field as doctors of chiropractic who are highly skilled, compassionate, ethical and successful. On its 80-acre campus in South Carolina, Sherman offers a first professional degree program unique in its approach to health care and known globally for the skill and art of chiropractic delivered by graduates. For more information, visit www.sherman.edu or call 800-849-8771.
For more information, please contact:
Karen Rhodes
Director of Public Relations
Sherman College of Chiropractic
Phone: 800-849-8771, ext. 242
E-mail: krhodes@sherman.edu
Web: www.sherman.edu