Sherman College

Names Rising Star:
Chelsea Rainey, D.C.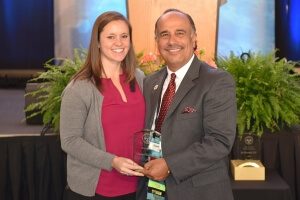 Rising Star Award
Greenville, SC, chiropractor Chelsea Rainey, D.C., was recently named Rising Star by Sherman College of Chiropractic in Spartanburg, SC. The Rising Star Award is given to recent Sherman College graduates who have demonstrated exceptional achievements and service in the community.
Dr. Rainey graduated summa cum laude from Sherman College in March 2014 and was the recipient of the Milton W. Garfunkel Award, the Academic Achievement Award, and the Service Distinction Award. In December 2014, she opened AlignLife of Downtown Greenville, where she serves hundreds of families in the community. She has received her Webster certification, and as a member of the International Chiropractic Pediatric Association (ICPA), she has truly enjoyed working with the pediatric and maternity population.
Dr. Rainey is very active in her community, including memberships in the Greenville Chamber and the Commerce Club in downtown Greenville. Each year she hosts a toy drive to benefit children with developmental delays, and she also hosts an annual food drive to benefit a local food pantry. She is currently training to become a mentor for children in foster care and enjoys baking cookies and bringing smiles to the families staying at the Ronald McDonald house.
Dr. Rainey has sponsored local sports teams, 5Ks, and other races. She often presents health talks to local businesses, churches, schools, and groups to educate the masses about the healing power of chiropractic care. As a member of the college's Reach Out and Recruit (ROAR) program, she has also participated in career fairs at local schools and loves talking to young adults about choosing chiropractic as a career. She often has Sherman College students shadow her at the office. An avid scholar and lifelong learner, she plans to complete the ICPA Certification program.
Sherman College named its 2017 award recipients May 4-6 as part of Lyceum, an annual continuing education and homecoming event attended by hundreds of chiropractors and students throughout the U.S. and internationally. Lyceum is held on the college's campus in Spartanburg, SC, and involves three days of seminars, special events, and other programs.
###
Sherman College of Chiropractic provides students with a comprehensive chiropractic education, preparing them to enter the field as doctors of chiropractic who are highly skilled, compassionate, ethical and successful. On its 80-acre campus in South Carolina, Sherman offers a first professional degree program unique in its approach to health care and known globally for the skill and art of chiropractic delivered by graduates. For more information, visit www.sherman.edu or call 800-849-8771.
For more information, please contact:
Karen Rhodes
Director of Public Relations
Sherman College of Chiropractic
Phone: 800-849-8771, ext. 242
E-mail: krhodes@sherman.edu
Web: www.sherman.edu