Sherman College

Names ROAR Student Leader of the Year:
Mike Williams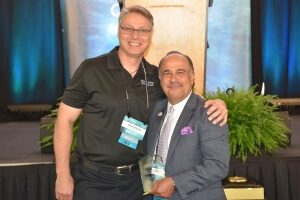 ROAR Student Leader of the Year Award
Abingdon, VA, native and future doctor of chiropractic Mike Williams was recently named Reach Out and Recruit (ROAR) Student Leader of the Year by Sherman College of Chiropractic in Spartanburg, SC, in appreciation of his contributions, time and commitment to growing the chiropractic profession. Williams is an eighth-quarter student at Sherman College.
The ROAR Student Leader of the Year award is given to an exceptional member of Sherman College's ROAR Student Leadership Program who has participated in a number of recruiting activities leading to the matriculation of students at Sherman College. ROAR asks its student leaders to reach beyond their comfort zone and help Sherman recruit future leaders for the profession, which Williams has certainly done.
In addition to being one of the college's standout members of the ROAR Student Leadership Program, Williams also works as a Student Ambassador during the college's VIP weekend for prospective students (called Showcase Sherman), where he is often depended upon for his strong leadership; he was named Star Student of the Quarter last summer. He is active in other organizations on the Sherman College campus as well, serving as president of the Students Veterans of America Club, president of Kappa Chi Service Club and treasurer of Network Spinal Analysis Club.
Williams has a bachelor's degree in exercise science from Emory and Henry College, where he played football, ran track and served as a trainer for the basketball teams. After college, he worked as a high school science teacher for 15 years and coached various sports for 17 years, including football and track. He had the privilege of coaching five state champions.
As a ROAR student leader, Mike has shown a continued interest in recruiting students from the Tri-City area of Tennessee, which includes Bristol, Kingsport and Johnson City, and he has been an invaluable resource in Sherman's recruiting efforts in that geographic area. During fall 2016, Mike represented Sherman College at three recruiting events. He organized a speaking engagement at East Tennessee State University that resulted in four applicants and two students enrolling at Sherman.
Sherman College named its 2017 award recipients May 4-6 as part of Lyceum, an annual continuing education and homecoming event attended by hundreds of chiropractors and students throughout the U.S. and internationally. Lyceum is held on the college's campus in Spartanburg, SC, and involves three days of seminars, special events, and other programs.
###
Sherman College of Chiropractic provides students with a comprehensive chiropractic education, preparing them to enter the field as doctors of chiropractic who are highly skilled, compassionate, ethical and successful. On its 80-acre campus in South Carolina, Sherman offers a first professional degree program unique in its approach to health care and known globally for the skill and art of chiropractic delivered by graduates. For more information, visit www.sherman.edu or call 800-849-8771.
For more information, please contact:
Karen Rhodes
Director of Public Relations
Sherman College of Chiropractic
Phone: 800-849-8771, ext. 242
E-mail: krhodes@sherman.edu
Web: www.sherman.edu