Student Billy Stetzel and Sherman College Honored with

$25,000 Scholarship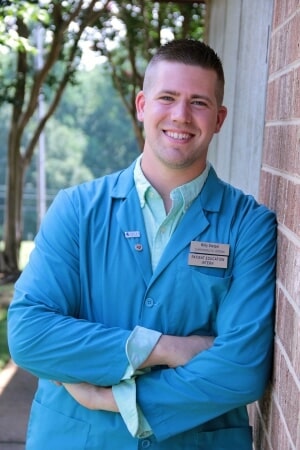 Sherman College 12th-quarter student Billy Stetzel has been selected as the recipient of the 2017 ChiroHealthUSA Foxworth Family Scholarship. Stetzel receives $10,000 for tuition and $5,000 in cash to help offset his living expenses, with an additional $10,000 donation being made to Sherman College of Chiropractic.
The scholarship is presented in honor of ChiroHealthUSA President Dr. Ray Foxworth's parents, Betty Pace Mathews and Charles Vernon Mathews, D.C.s. Stetzel was present for the announcement and check presentation, which was made at ChiroHealthUSA's National Convention and Expo in Florida on August 25.
"It is such a blessing and an honor to be awarded this scholarship," Stetzel said. "My biggest hope in receiving it is that one day I can give it back to the profession both financially and through service."
Stetzel's dedication to the profession comes naturally, as he is part of a growing chiropractic family closely affiliated with Sherman College. His father, Gregg, is a 1983 Sherman graduate; his mother, Kim, is also a doctor of chiropractic and serves on the college's board of trustees; and his sister, Danielle, is a current student at Sherman as well.
"We were honored and proud to learn that Billy Stetzel was selected as the recipient of ChiroHealthUSA's prestigious Foxworth Family Scholarship," said Sherman College President Edwin Cordero, D.C. "Billy's enthusiasm for chiropractic sets a positive example for his classmates. He is an exemplary student who is passionate about changing the world through principled chiropractic."

Cordero also expressed his appreciation for ChiroHealthUSA's $10,000 donation to Sherman College of Chiropractic as part of the Foxworth Family Scholarship. "Sherman College is particularly proud to be recognized as an institution that nurtures exemplary future doctors of chiropractic – those who will become our profession's next generation of leaders."
Sherman College Director of Financial Aid Kendra Strange said she was not surprised when she heard that Stetzel had been selected as the recipient of the scholarship. "Billy is an assiduous scholar, consistently appearing on the Dean's List and the President's List each quarter," Strange said. "He has a kind-hearted and sincere demeanor, which I know will propel him to become a successful chiropractor and a selfless contributor to the community he will soon serve."
Ray Foxworth, D.C., says he started the scholarship to give back to the profession that has meant so much to him and his family. "We all belong to chiropractic, and we all need to help, invest, and support the advancement of our profession," he said. "I am overjoyed that we have been able to extend our support to include students who have expressed passion for serving patients and our profession."
###
Sherman College of Chiropractic provides students with a comprehensive chiropractic education, preparing them to enter the field as doctors of chiropractic who are highly skilled, compassionate, ethical and successful. On its 80-acre campus in South Carolina, Sherman offers a first professional degree program unique in its approach to health care and known globally for the skill and art of chiropractic delivered by graduates. For more information, visit www.sherman.edu or call 800-849-8771.
ChiroHealthUSA and The Foxworth Family Scholarship are registered trademarks.
For more information, please contact:
Karen Rhodes
Director of Public Relations
Sherman College of Chiropractic
Phone: 800-849-8771, ext. 242
Email: krhodes@sherman.edu
Web: www.sherman.edu
Kristi Hudson
Director of Business Relations
Scholarship Administrator
ChiroHealthUSA
Phone: 888-719-9990, ext. 302
Email: kristi@chirohealthusa.com
Web: www.chirohealthusa.com