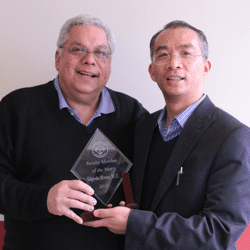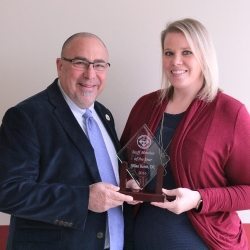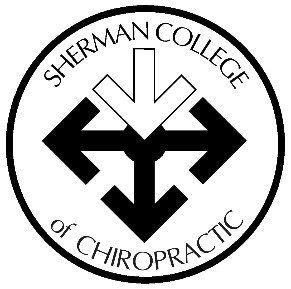 December 5, 2016
Dr. Edgardo Rivera and Dr. Jillian Kersh were recently honored by Sherman College of Chiropractic in appreciation of their contributions, time and commitment to the college.
Anatomy Lab Manager Edgardo Rivera, M.D., was named Faculty Member of the Year. "Dr. Rivera came on board at Sherman College less than two years ago, but he has already won the hearts of our students," says Dean of Basic Sciences George Luo, M.D., Ph.D. "He is an excellent lab manager and a great lecture assistant for anatomy classes. He always keeps the best interest of our students in mind."
Dr. Rivera holds a pre-medical degree from Catholic University (1973) in Ponce, Puerto Rico, and an M.D. from Veracruz University School of Medicine (1978) in Mexico; he completed his internship in 1980 at Saint Luke's Hospital in Ponce. He then joined the Puerto Rico Department of Health as medical director for a community ambulatory clinic, then served as Special Assistant to Puerto Rico's Secretary of Health, assisting in the implementation of public policies across the island and supervision various offices and committees.
He has worked as a medical liaison for institutions with residency and fellowship programs and a division sales manager, unit director and managed care/hospital manager for several companies in the US and Puerto Rico. Dr. Rivera launched his own consulting and business development company from 2012-2014 and then began teaching human anatomy at the Inter-American University-Metro Campus. He joined Sherman College of Chiropractic as anatomy lab manager in June 2015. Dr. Rivera and his wife, Myrna Torres, have three sons, Edgardo, Alejandro and Gerardo, and three grandsons.
Director of Continuing Education Jillian Kersh, D.C., was named Staff Member of the Year. "Dr. Jillian Kersh has done a stellar job since taking over as the Director of the Continuing Education department at Sherman College a little over a year ago," says Executive Vice President Neil Cohen, D.C., of her contributions to the college. "She has demonstrated extraordinary leadership skills as well as unmatched integrity when it comes to getting the job done right."
A Michigan native, Dr. Kersh holds a bachelor's degree in applied biology from Ferris State University (2006) and the doctor of chiropractic degree from Sherman College (2009). She practiced as a full-time associate in both South Carolina and Pennsylvania from 2010-2012. Following her return to South Carolina, she joined the college as director of the Reach Out and Recruit (ROAR) program in 2013, revitalizing that department's efforts and making a positive impact on the college's enrollment.
She was named director of continuing education in 2015. In that role, she develops and supports all continuing education (CE) programming for the college, including Lyceum, the International Research and Philosophy Symposium, and the Academy of Chiropractic Philosophers, as well as auxiliary CE programs offered both online and in person, across the U.S. and around the world. In the local community, Dr. Kersh is active with the Spartanburg Young Professionals and serves as a volunteer for Safe Homes/RAPE Crisis Coalition. In her spare time, she enjoys playing golf and reading.
###
Sherman College of Chiropractic provides students with a comprehensive chiropractic education, preparing them to enter the field as doctors of chiropractic who are highly skilled, compassionate, ethical and successful. On its 80-acre campus in South Carolina, Sherman offers a first professional degree program unique in its approach to health care and known globally for the skill and art of chiropractic delivered by graduates. For more information, visit www.sherman.edu or call 800-849-8771.
For more information, please contact:
Karen Rhodes
Director of Public Relations
Sherman College of Chiropractic
Phone: 800-849-8771, ext. 242
Email: krhodes@sherman.edu
Web: www.sherman.edu