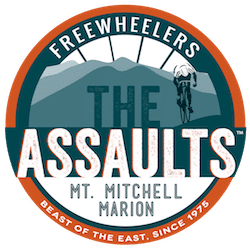 Sherman College of Chiropractic is excited to announce its sponsorship of the 2017 Assaults on Mt. Mitchell and Marion. The Assaults is one of the most intense, premier cycling experiences that draws a full field of nearly 1,000 cyclists from across the world each year.
The Assaults on Mt. Mitchell is a one-day, 102.7-mile challenge that takes riders from Spartanburg, SC, to the top of the highest peak in the east, Mt. Mitchell; its sister ride, The Assault on Marion, stretches 74.2 miles from Spartanburg to Marion, NC.
The Sherman College of Chiropractic Health Center will serve as Cyclist Care + Support Sponsor for this year's ride on May 15. Interns will be providing spinal health screenings at the event expo the day before the race. For more information about the race, go to http://theassaults.com/.