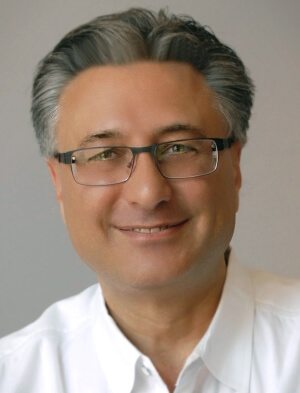 Peter Kevorkian, D.C.
Chair of the Board of Trustees
Iremember my first day in chiropractic college. Excited to be starting a journey into a profession I knew little about, I sat in a room with more than 150 other students as the college went through the process of collating us into the academic system.
Staff members from admissions, the registrar, financial aid and others came to explain the logistics and protocols of the college. With that, student representatives from the major clubs also gave short presentations attempting to entice us to participate in their groups. Most memorable on that day, for me, was the presentation of the philosophy and communications club.
This 15-minute patient education lecture changed my life. The person presented an old chart lecture developed by Reggie Gold, "Attitudes that Keep You from Becoming Healthy." I had never heard the chiropractic story as a whole package. After that talk, I made a commitment to myself to learn how to do that talk. I spent the next number of months developing the words, getting over my fears, and dealing with my introverted nature to learn how to do a patient lecture.
I came to believe that if people could know what I know, they would do what I do. I knew that children should be checked and adjusted from birth, that chiropractic is about creating well-being and not treating disease, that the intelligence of the life is infinite and the educated mind is finite, and most importantly that the body is always better off with good nerve supply than bad nerve supply. Although I got quite good at talking TIC and answering questions in an effective and congruent manner, I knew that the true test of my competency would be when I was in my own practice.
Although there are many pieces to creating and sustaining a successful chiropractic practice, I firmly believe the cornerstone of a subluxation-centered, family practice focused on building well-being is effective patient education. Our articulation must be congruent with our practice objectives and philosophical tenets. I also know that the educational process needs to happen without judgment and at an appropriate gradient.
When a person enters our practice, they often do so because they want relief or resolve some problem or disorder of the body. As chiropractors, we attempt to move the person from a mindset of "get rid of my problem or medical condition" to "help me have a healthier, better functioning spine." We strive to have the person move from thinking, "I trust the doctor and the treatment he/she gives me," to "I trust that my body knows how to do everything perfectly right."
Education of our unique service is more than a conceptual one. The chiropractor needs to make real the spine and the benefit of a healthy spine. As the patient understands a subluxation, they take a huge step in embracing the uniqueness of our service.
Caution must be taken, though, to not create the "subluxation condition." Patients may come to us for low back pain or headaches or bedwetting and we replace the medical condition with the subluxation. A subluxation should be corrected because a subluxation in a person's spine keeps them from fully expressing their potential. A subluxation is not a pathology that needs to be treated; rather, it is a state of the body that is less than ideal, and chiropractors can provide a specific force to the body to allow its correction. Every technique has a different model of the spine as they determine the best manner to direct the chiropractor to place a force on the spine. This is the unique service of chiropractors.
The issue is whether we focus on a healthy spine or ridding the body of subluxation. The real goal that chiropractors share is to have a healthy spine and nerve system. The strategy we use to get there is the correction of spinal subluxations.
The concept of focusing on creating health versus treating disorders is not unique to chiropractors. The concept of Salutogenesis had its origins more than 30 years ago within the field of psychology. This term describes an approach focusing on factors that support human health and well-being, rather than on factors that cause disease (pathogenesis). Although very aligned to our philosophy of "improving health" rather than "treating conditions," it is not a replacement of our philosophy and/or practice objectives.
Vitalism is recognition that the whole is larger than the sum of its parts. It has its origins in the later part of the 1800s and honors aspects of mechanism and spiritualism. Vitalism is a framework within which our philosophy fits but it is not what chiropractic is. Our objective to correct vertebral subluxations is the specific strategy we have to contribute to the well-being of our patients; the goal of building well-being is a larger frame.
People are always better off without subluxations than with subluxations. This is the central focus of how we serve our patients. The concepts of Salutogenesis, Vitalis, and even health are important ones, and all are aligned with our philosophy. But none of these define the practice of chiropractic.
Chiropractic is the location and correction of vertebral subluxations. That service is non-duplicative and is what makes us unique. Sherman College strives to offer excellence in that art form and graduate competent, compassionate, highly skilled chiropractors to offer that service to humanity. I am proud to play a part in it.
Originally published in Sherman Magazine Spring 2017, page 3