Student Ambassador

Spotlight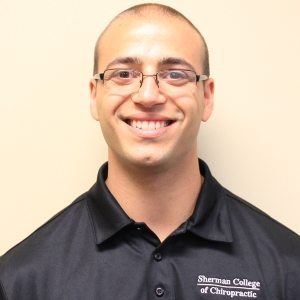 Joe Messina
Home Town: Prospect, CT
Activities/Hobbies: My wife, Sam, is a recent Sherman graduate (December 2015). Outside of Sherman, we enjoy our full-time practice, Vital Chiropractic, in Lexington, SC. We also enjoy spending time camping at the lake with our two dogs.
Why Chiropractic: When I moved from Connecticut with my wife so she could attend Sherman, I really didn't know what chiropractic was. Once she started the program, I learned more and more about the philosophy and why chiropractors do what they do, and I knew this is what was I called to do in order to help others be the best that they can be and to make a difference.
Favorite thing about Sherman: My favorite thing about Sherman other than the family environment is the philosophy, which we start learning our very first quarter. What we do as chiropractors is very important, but why we do what we do is even more important. It is our why that makes us stand out from all other fields.
Favorite thing about Upstate South Carolina: My favorite thing about the Upstate is that no matter what my wife, Sam, and I want to do, it's not far away. We are close to Myrtle Beach, Atlanta, Charlotte, and the mountains. There is no shortage of fun things to do within driving distance.
Learn more about Sherman College's Student Ambassadors.