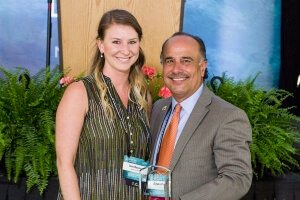 Sherman College

Names Rising Star:
Sam Messina, D.C.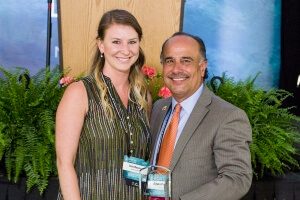 Rising Star Award
Lexington, SC, chiropractor Sam Messina, D.C., was recently named Rising Star by Sherman College of Chiropractic in Spartanburg, SC. The Rising Star Award is given to recent Sherman College graduates who have demonstrated exceptional achievements and service in the community.
Dr. Messina has been in practice for a little more than a year and is a December 2015 Sherman College graduate. Just three months after graduation from Sherman College, Dr. Sam and her husband, Sherman student Joe Messina, opened Vital Chiropractic in Lexington, SC.
Their office has been bustling since opening its doors in March 2016. The 2,500-square-foot office has plenty of room to serve the many families and children already creating a demand for Dr. Messina's principled chiropractic care; Joe will join the office full-time in fall 2017 after he graduates.
Dr. Sam Messina and Joe have been interviewed live on their local Columbia News channel twice within the first year of being open. Dr. Messina says that the chiropractic philosophy taught at Sherman, combined with the couple's commitment to excellence, will help drive the profession and their futures forward.
Sherman College named its 2017 award recipients May 4-6 as part of Lyceum, an annual continuing education and homecoming event attended by hundreds of chiropractors and students throughout the U.S. and internationally. Lyceum is held on the college's campus in Spartanburg, SC, and involves three days of seminars, special events, and other programs.
###
Sherman College of Chiropractic provides students with a comprehensive chiropractic education, preparing them to enter the field as doctors of chiropractic who are highly skilled, compassionate, ethical and successful. On its 80-acre campus in South Carolina, Sherman offers a first professional degree program unique in its approach to health care and known globally for the skill and art of chiropractic delivered by graduates. For more information, visit www.sherman.edu or call 800-849-8771.
For more information, please contact:
Karen Rhodes
Director of Public Relations
Sherman College of Chiropractic
Phone: 800-849-8771, ext. 242
E-mail: krhodes@sherman.edu
Web: www.sherman.edu