Sixty Complete Doctor of Chiropractic Program at

Sherman College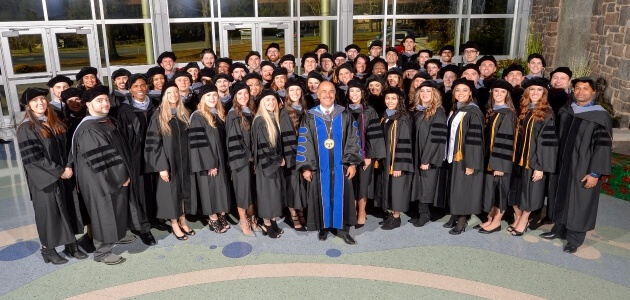 Sixty students from around the world received the doctor of chiropractic degree from Sherman College of Chiropractic in Spartanburg, SC, on Saturday, December 16, 2017. The commencement was a shared ceremony for December 2017 and March 2018 graduates.
Blair Ann Breslin of Michigan (December class) and William Alexander Stetzel of New Jersey (March class), recipients of the Milton W. Garfunkel Award, each presented a farewell address to classmates. The Garfunkel Award is the highest award given at graduation. Students receiving this honor must have a grade point average of 3.5 or above, and in addition, best exemplify those qualities Sherman College would like to inculcate in all of its graduates: love of the profession, an understanding of the philosophy, willingness to share, and service to the college and community.
Stetzel also received the B.J. Palmer Philosophy Distinction Award. This honor is given to outstanding students who exemplify the profound philosophical understanding necessary to translate the universal principles of life into the workable philosophy, science, and art which is chiropractic.
Stacey Elizabeth Rodsater of Illinois (December class) and Jordan Paul Thompson of North Carolina (March class) received the Academic Achievement Award. The Academic Achievement Award is given to the individual in each graduating class who maintains the highest grade point average throughout his or her studies at Sherman College.
Cally Elizabeth Parks of Florida and Clara Patrice Sughrue of Virginia (December class) and James Edsel Craft II of Kentucky (March class) were presented with the Service Distinction Award. This distinction is not given at every graduation; rather it is given to students who stand out for their significant and distinguished service contributions to Sherman College and the local community throughout their course of study.
The Clinical Excellence Award was presented to Breslin (December class) and also to Jonathan Quinn Ward of North Carolina (March class) in recognition of their successful practices in the Health Center. This award is given to an intern in each class who has diligently worked to develop skills in the art, science, and philosophy of chiropractic, maintained an A average in the clinical program and exhibited superior overall clinical performance and professionalism.
The commencement address was given by Kevin Power, D.C., assistant professor of clinical sciences and Student Clinic faculty doctor at Sherman College. A 1981 Sherman graduate, Power was in private practice in Australia and the U.S. until he joined the college faculty in 2002. He is the youngest of five brothers, all doctors of chiropractic. Sherman College honored him with the Faculty Member of the Year award in both 2010 and 2015 in recognition of his innovation in student learning and his service in the classroom and the Chiropractic Health Center.
Jim Dubel, M.S., D.C., of Middletown, NJ, delivered the charge to the graduates. A 1980 Palmer College graduate, Dubel opened Health in Hand Chiropractic in New Jersey with his wife and chiropractic assistant, Barbara "Babs" Dubel, at his side. Ten years later, Dubel founded the New Beginning for a New Future Chiropractic Philosophy Weekend, known now as New Beginnings, which has become one of the premier chiropractic philosophy events in the nation, drawing hundreds of chiropractors as attendees and attracting the best of the best in chiropractic philosophy presenters. His daughter, Stephanie, Victoria Dubel, graduated with the December class.
The doctor of chiropractic program at Sherman College requires students to complete more than 4,700 hours (14 quarters) of classroom and laboratory study and also includes an internship in the college's on-campus Chiropractic Health Center. To enter the D.C. program, students must have at least 90 semester hours of college-level courses, including courses in the sciences.
###
Sherman College of Chiropractic provides students with a comprehensive chiropractic education, preparing them to enter the field as doctors of chiropractic who are highly skilled, compassionate, ethical and successful. On its 80-acre campus in South Carolina, Sherman offers a first professional degree program unique in its approach to health care and known globally for the skill and art of chiropractic delivered by graduates. For more information, visit www.sherman.edu or call 800-849-8771.
For more information, please contact:
Karen Rhodes
Director of Public Relations
Sherman College of Chiropractic
Phone: 800-849-8771, ext. 242
Email: krhodes@sherman.edu
Web: www.sherman.edu