Ready to Apply to Chiropractor School? Find Out Which

Prerequisites You'll Need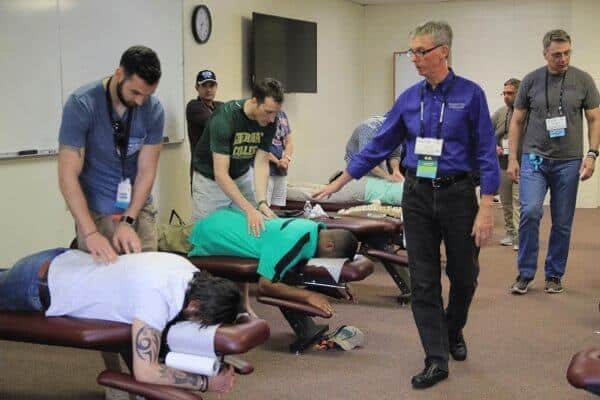 If your dream is to help others lead healthier lives through natural, preventative health care, you already have one of the most important prerequisites for pursuing a career in chiropractic. Your next step is to map out an educational pathway that helps you achieve your goal, and luckily, there are several to choose from. Need to know which undergraduate courses are required for entrance into chiropractic college, or how to expedite your training with fast-track options? We've got you covered!
Read on for an overview of the prerequisites, and be sure to follow up with Sherman about any questions you have about your personal path toward a career in chiropractic.
Structure Your Undergrad Courses around Chiropractic College Requirements
If you know you will pursue chiropractic training after completing your undergraduate degree, here is a sample curriculum you can follow to prepare for chiropractic college. This curriculum is designed to equip students with a valuable theoretical foundation and includes specific courses required for entry into Sherman College of Chiropractic.
Sample undergraduate curriculum to obtain the 90 semester hours (or 135 quarter hours) needed for entrance into Sherman (please note that there are many courses from which to choose and that this is just a sample):
In year one, spread over the fall and spring semesters, you could complete:
English I and English II
Anatomy/Physiology I and II (with Lab)
General Chemistry I and II (with Lab)
College Algebra
Psychology
Computer Science
Trigonometry
One course from the Social Sciences/Humanities
In year two, spread across the fall and spring semesters, you might pursue the following courses:
Physics I with Lab
Physics II with Lab (or Statistics, Biomechanics)
Organic Chemistry I with Lab
Organic Chemistry II (or Biochemistry)
A total of four courses from the Social Sciences/Humanities
In year three, you would fulfill your elective credits to bring the total amount to at least 90 hours. Sherman College recommends that the electives you choose include:
Business
Computer Science
Microbiology
Anatomy
It's important to note that you'll need a grade of "C" or higher in all chiropractic prerequisite courses to be eligible for entrance into Sherman College, and a cumulative GPA of at least 3.0 on a 4.0 scale. Exceptions can be made under the Alternative Admissions Track Plan (AATP) if you have a GPA between 2.75 and 2.99 and/or fewer than the required hours in the sciences.

Fast Track Your Training with a Pre-Chiropractic Certificate
Students who enroll at nearby Spartanburg Community College have the option to fast-track their education by earning an Associate of Science Degree combined with pre-chiropractic electives and a Pre-Chiropractic Certificate. This joint program includes all of the prerequisites required to pursue a chiropractic degree, and once successfully completed, guarantees entrance into Sherman College of Chiropractic.
Students who go this route will earn both an associate and graduate degree in just 6.6 years—saving money, and allowing them to start their chiropractic careers more quickly.

"Three-Plus-One" Programs Offer a Quicker Route to your Chiropractic Degree
Sherman has partnered with several four-year institutions to offer prospective chiropractic students another way to fast track their education and save money on tuition. These partnerships, known as "Three-Plus-One" programs, allow students to complete the first three years of a bachelor degree at a partner school and then pursue year one of chiropractic training at Sherman College. If you successfully complete year one at Sherman, it counts toward completing your Bachelor degree—AND toward completing your chiropractic degree.
Essentially, you'll shave one whole year off your total education. Institutions currently partnered with Sherman to offer students either Articulation Agreements or Three-Plus-One programs include:
Bloomfield College (NJ)
Ferrum College (VA)
Indiana University of Pennsylvania (PA)
Lipscomb University (TN)
Mid Michigan Community College (MI)
Middle Tennessee State University (TN)
Middlesex County College (NJ)
Mount Aloysius College (PA)
Pontifica Universidad Católica de Puerto Rico (PR)
Spartanburg Community College (SC)
Spartanburg Methodist College (SC)
Universidad Central de Bayamón (PR)
University of South Carolina Upstate (SC)
Would you like more detailed advice about planning your chiropractic education?
Just visit Sherman College of Chiropractic online for further information about prerequisites and educational pathways—or better yet, give us a call at 800-849-8771, ext. 200 to speak directly with admissions.