Dr. Kevin Power and Monte Guffey were recently honored by Sherman College of Chiropractic in appreciation of their contributions, time and commitment to the college.
An assistant professor of clinical sciences and assistant case doctor at the college's on-campus Chiropractic Health Center, Dr. Power was named Faculty Member of the Year, an honor he also received in 2010. "Dr. Power has a long history with Sherman College, from a student to an esteemed faculty member," says Vice President for Academic Affairs / Provost Robert Irwin, D.C. "He has always been willing to step up for new and sometimes challenging assignments, and he has proven to be an innovator when it comes to student learning. His service in the classroom and the health center are greatly appreciated."
Associate Vice President for Academic Affairs Joe Donofrio, D.C., A.C.P., adds that "Dr. Power has really found his place at Sherman College, and the students love him. He has a special way of communicating, especially in the practical teaching environment; he is kind and patient and very experienced."
A 1981 Sherman graduate, Power has 34 years of private practice experience, practicing for five years in his home state of Victoria, Australia, and then in Spartanburg. He joined the college faculty in 2002 and teaches and assists in technique classes as well as serving as a faculty doctor in the student clinic.
He is an active member of Bethel United Methodist Church, where he leads a Sunday School class. He plays bass guitar, golf and racquetball, and he plays bass in a men's country/bluegrass gospel group. Power is the youngest of five brothers, all doctors of chiropractic. He and his wife, Christine, have four children, Summer, Joe, Matt and Holly, and three grandchildren; their eldest son, Joe, graduated from Sherman College in 2013.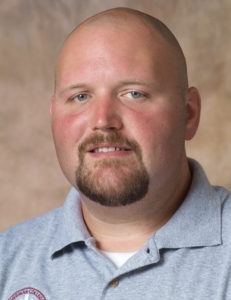 Guffey, the college's maintenance supervisor, was named Staff Member of the Year. "Monte has taken on new responsibilities as a supervisor head-on and demonstrated that great followers become great leaders," says Vice President for Business and Finance Karen Canup, C.P.A., of Guffey's growth at the college. "He is a phenomenally hard worker who takes pride in doing things the right way. He is not satisfied to simply complete a task or project; he is driven to give every assignment his best effort."
This is Guffey's second time being named Staff Member of the Year; he was first honored in 2009. He joined the college in 2006 as groundskeeper, moved on to grounds supervisor and was promoted to maintenance supervisor this year.
An Inman, SC, native, Guffey is an ordained minister and previously served as youth pastor at Northgate Free Will Baptist Church in Lyman for five years and as pastor at Hope Free Will Baptist Church in Spartanburg for four years. He and his wife, Michelle, are currently members at North Spartanburg Free Will Baptist Church, where their new ministry (Fill in the Gap Ministries) is thriving.
For the past two years, the couple have been helping other churches, by filling the pulpit when their pastor can't be in the service. Guffey's hobbies include preaching, teaching and studying the Bible; his favorite thing to do is spend time with his wife and their three puppies.