Showcase Sherman Weekend FAQs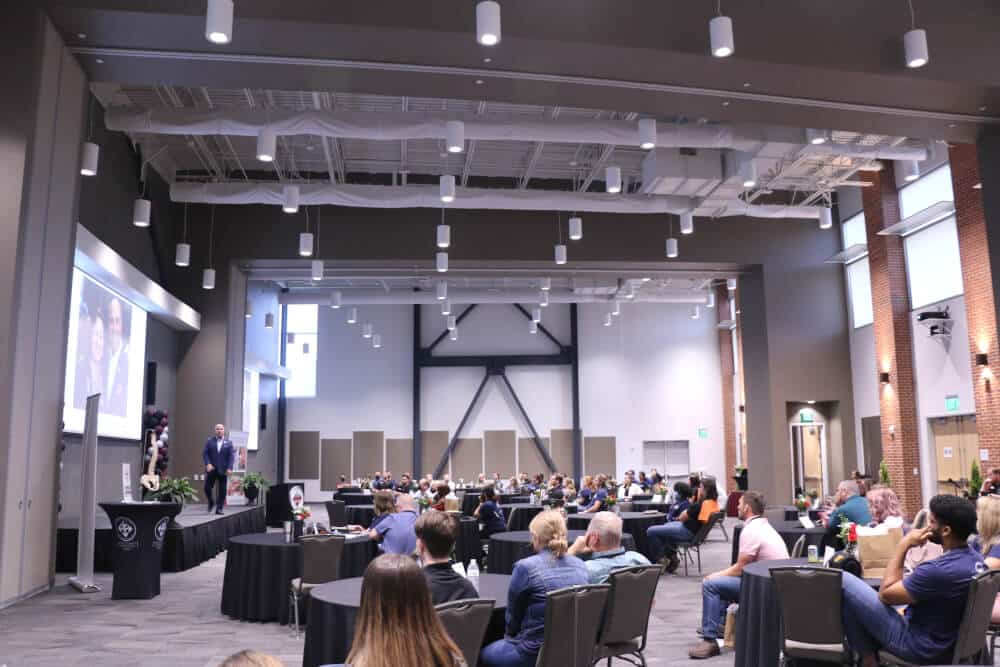 Showcase Sherman Weekend is a two-day event is for prospective students and college advisers to explore chiropractic and Sherman College. This weekend is designed to ignite your passion to help your community in a growing and rewarding career as a Doctor of Chiropractic. You will meet current students, chat with faculty, and visit the Spartanburg area during this fun-filled weekend.
Here are answers to our most frequently asked questions about this great event!
How is Showcase Sherman Weekend different from a weekday tour?
Showcase Sherman gives prospective students the exclusive opportunity to interact with current students and faculty. You will have the chance to meet several alumni and chiropractors who are currently in practice. The environment, activities, and FUN during Showcase Sherman Weekend are a special opportunity that you will not want to miss!
After registering for Showcase Sherman Weekend, is attendance mandatory?
Attendance is mandatory at all of our scheduled sessions. In return, Sherman College will cover up to three days hotel stay, meals on Friday (lunch and dinner) and Saturday (lunch and dinner), and transportation (MUST be arranged beforehand).
Will I get to see the campus?
Yes, you will get to see all of Sherman College's beautiful campus located on 80 acres. Our Ambassadors will lead you on an in-depth tour, highlighting what makes Sherman College unique compared to other chiropractic schools.
Will classes be in session?
Showcase Sherman Weekend will take place during the college's normal operating schedule, except for Lyceum Weekend, which is an annual event hosted in the spring. Over the course of the weekend, you will have numerous opportunities to interact with current Sherman students.
Are children welcome at Showcase Sherman Weekend?
At Sherman College, we love children, but cannot properly accommodate children and prospective students simultaneously. Showcase Sherman Weekend is two full days packed not only with information and excitement, but also hands-on experience.
Does Showcase Sherman Weekend have an age requirement?
There is no age requirement. However, the prospective student considering chiropractic as a career must have a minimum of 30 hours of college credit and a minimum GPA of 2.75
I registered but I haven't received a registration confirmation, what should I do?
First, check your spam/junk mail folder. You should receive your confirmation from the Sherman College admissions team. If you still do not have a confirmation, please contact the admissions department via email at admissions@sherman.edu or call 800-849-8771, ext. 760.
What meals are provided?
Sherman College provides lunch and dinner on Friday, as well as lunch and dinner on Saturday, for all attendees and guests. The host hotel provides breakfast for all guests. If you have any dietary needs, please indicate them on the registration form. Sherman College is able to accommodate most dietary needs, however, depending on the individual need, you may need to plan appropriately. If you have questions regarding the meals, please contact the Admissions Office at 800-849-8771, ext. 760.
What lodging expenses are covered?
After you have successfully registered to attend, Sherman College will make hotel arrangements for you with the information you provide during registration. You will receive information about the host hotel during the week of the event. A three-night stay (Thursday-Sunday) is included at a preferred local hotel; if you would like to stay for more than the provided 3 nights, please indicate on your registration form. You will be responsible for any additional nights; however, you will receive the special Sherman College rate. For full details on travel reimbursement, visit this page.
I'm driving in. Where will I park?
If you are driving to Showcase Sherman Weekend, check out our directions to Sherman's campus here. Once you arrive, you will park in a reserved parking space in front of the Gelardi Student Center in the lower section of H marked on the campus map.
I'm flying in. How will I get from the airport to the hotel? Does Sherman provide transportation to and from Showcase Sherman Weekend?
If you are not within driving distance and are flying in for the weekend, Sherman College provides complimentary shuttles to the preferred hotel from Charlotte-Douglas International Airport (CLT) and from Greenville-Spartanburg International Airport (GSP) on Thursday and returning to the CLT and GSP airports on Sunday of Showcase Sherman Weekend. Airport pick-up times on Thursday will be between 8 a.m. and 8 p.m. Airport drop-off times on event Sunday will be between 7 a.m. and 12 p.m. For all other flight times, will need to make personal transportation arrangements at no cost to the college. Your flight itinerary must be received 3 weeks prior to the event in order to schedule pick-up/drop-off times accordingly. Please e-mail your itinerary to admissions@sherman.edu. Transportation will also be provided to and from the event hotel and the college on Friday and Saturday of Showcase Sherman Weekend. Times will be listed in your confirmation documents once you register for Showcase Sherman Weekend. If scheduled transportation times do not fit your needs, you will be responsible for your own transportation to and from the college; mobility service providers (Uber, Lyft and taxis) are available in this area. For full details on transportation and travel reimbursement, visit this page.