Center for Scholarly Activity
The Center for Scholarly Activity is committed to improving the teaching and practice of chiropractic in a salutogenic, evidence-informed context focused on the analysis and correction of vertebral subluxations.
Obsessed with Student Success
Center personnel will:
1. Create and maintain a positive, nurturing culture among students toward research and scholarly activities (RASA) as well as evidence-informed, vertebral subluxation centered practice in a vitalistic, salutogenic model.
2. Assist students in coordinating and integrating college resources to achieve their academic and clinical goals related to research and evidence-informed practice.
3. Provide support for students seeking assistance with literature search, research design and implementation, and manuscript preparation.
4. Provide support for students seeking assistance with literature retrieval, clinical assessment, and research to empower them with critical thinking skills necessary for success in the Health Center and private practice.
5. Integrate feedback from students and faculty to ensure relevance, excellence, and accountability in evidence-informed curriculum and practice.
Integrating Evidence-Informed Practice
Evidence-Informed curriculum and practice is an essential element of implementing these core values. The process involves the following steps:
• Evaluate the evidence base for each course. Is the material taught supported by textbooks, scientific literature, individual expertise, or a combination of these?
• Identify any gaps in the evidence for what is taught.
• Review the available literature to see which gaps can be filled.
• This will lead to recommendations for curriculum and policy change, and help develop a research agenda to fill the gaps that remain.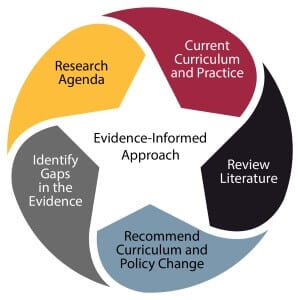 Neurological Consequences of Spinal Degenerative Disease Associated with Vertebral Subluxations
Prevalence of abnormal findings in a cohort of patients referred for cervical spine MRI examination by doctors of chiropractic and potential neurological consequences associated with vertebral subluxation
Putative neurobiological mechanisms associated with vertebral subluxation: A review and update
Unexplained issues in mental health: The role of vertebral subluxation
Current Research Projects
Attaway S (co-PI), Becker (co-PI)., Lerner, Brewster. "A comparison between cervical proprioception and body sway as assessments for sensory motor integration."
Becker (PI), Brewster, Hock. "The effect of a single upper cervical chiropractic adjustment on center of pressure excursions."
Boles R (PI), Reizer B., York J., Brewster A. Validity of Entrance/Exit Exams as Objective Structured Clinical Examinations (OSCE).
Brewster A (PI), Amplitude of sEMG Signal with Varied Electrode-Muscle Angle in Biceps Brachii: A Proof-of-Concept Study for sEMG Analysis of Vertebral Subluxation
Brewster A (PI), Auger G. A Literature Review of L5 Coupled Motion to Increase Specificity of Vertebral Subluxation Evaluation.
Brewster A (PI), Becker D, Fehl W, Schwartzbauer M. First-Person Point-of-View Video to Enhance Effectiveness of Chiropractic Adjusting Technique Instruction for the Correction of Vertebral Subluxation
Brewster A (PI), Browning. Changes in Heart Rate Variability During Subluxation-Based Chiropractic Care.
Brewster A (PI). Theodossis C., Greene-Orndorff L. Prevalence of Elongated Styloid in Relation to Atlas Transverse Process.
Devlin M (PI), Hodges E, Becker D, Brewster A. The Validity of Visualized Foot Flare, Gluteal Width, and Gluteal Fold Height as Assessment Tools for Pelvic Misalignment.
Elder G, BS, DC, Mercedes Cook, DC, Jordan Jensen, DC, Alan Brewster, DC, Mark Clark, PhD. Inter- and intra-examiner reliability of the Blair protractoview method an examination of a chiropractic radiographic technique utilizing volumetric cone-beam computed tomography. Sherman College IRAPS 2022. [Sherman faculty italicized]
Hock S (PI), "Does a mother's birth experience inform evidence of subluxation in an infant during the first year of life?"
Hock S (PI), Madden T. Work Life Balance: The Pandemic's Impact on Women in Higher Education.
Kenya C (PI), Hudson M, Kenya A. A Viability Study on Vertebral Subluxation Correction impact on the Pittsburg Sleep Index, Perceived Stress Scale and Short version of the Depression Anxiety Stress Scale.
Kuhta P (PI), Orndorff L, Gregory M. Positioning of Chiropractic Patients for CBCT Imaging of the Cervical Spine.
Porter-Fowler P (PI), Alcantara J, Porter J, Koch L. The Cultural Competence of Chiropractic Students.
Sanderson, D (PI). Comparison of chiropractic student physiology NBCE Part I scores after increasing frequency and length of summative course exams.
Schwartzbauer M (PI), Becker D, Brewster A, Theodossis C. A Comparative Analysis of Sherman College and EPIC Leg Check Protocols in Determining Supine Leg Check Pattern Using Cervicocephalic Kinesthetic Sensibility Test as a Standard Measure.
Publication List at Sherman College