14th Annual IRAPS Gathers Leaders in Chiropractic Philosophy, Research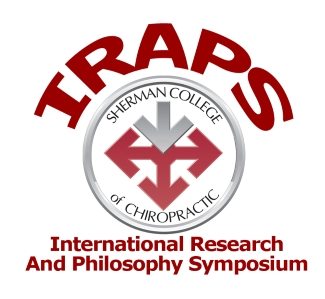 Sherman College of Chiropractic recently hosted the 14th Annual International Research and Philosophy Symposium (IRAPS), a peer-reviewed conference on vertebral subluxation research and the philosophy of chiropractic, in Spartanburg, SC. About 70 doctors of chiropractic attended the event, and 12 hours of continuing education credit were offered.
"This year's IRAPS showcased diverse topics in philosophy and research led by Drs. Bill Decken, Matt McCoy, Joel Alcantara and Chris Kent," said Sherman College Director of Continuing Education Jillian Kersh, D.C. "As a chiropractor, I found the event to be robust, thought-provoking and cutting-edge for the profession."
The goal of IRAPS is to bring together leaders in philosophy and research as well as practitioners who are centered on the vertebral subluxation practice, to build a stronger academic community worldwide regarding the subluxation model of chiropractic. The symposium's intent is to foster a view that the chiropractic profession is centered on vertebral subluxation, based on vitalism, dedicated to research and developing a discipline of philosophy.
Highlights included the following presentations:
Vertebral Subluxation, Critical Thinking, and Evidence-Informed Practice – Christopher Kent, D.C., J.D.
What is Radical Science? – Bill Decken, D.C., '86, D.Ph.CS
Vertebral Subluxation Models & Definitions: Is There Really Anything New? – Matt McCoy, D.C., M.P.H.
Pragmatic Research, Quality of Life and Salu­togenesis Research – Joel Alcantara, D.C.
Resolution of Low Back Pain and GERD in a 20-Year-Old Male Patient Following Upper Cervical Chiropractic Care: A Case Report – Charmaine Herman, D.C., '09
IRAPS presenters included the following:
Joel Alcantara, D.C.
Brigette Bowler, D.C.
Rick Brescia, D.C., D.Ph.CS
Carly Lentzt Carney, D.C.
Ron Castellucci, D.C., A.C.P.
Bill Decken, D.C., D.Ph.CS
Brian Dooley, D.C., A.C.P.
Curtis Fedorchuk, D.C.
Tate Gentile, D.C.
Matthew Hartenburg, D.C.
Charmaine Herman, M.A., D.C.
Nicole Hirshowitz, D.C.
Sarah Hock, D.C.
Christopher Kent, D.C., J.D.
Daniel Knowles, D.C.
Dejan Kotur, D.C.
Michelle MacCarthy, D.C.
Matthew McCoy, D.C., M.P.H.
Eric Russell, D.C., D.Ph.CS
Anna-Marie Schmidt
David Starmer, D.C.
For additional information, go to https://www.sherman.edu/iraps.
###
Sherman College of Chiropractic provides students with a comprehensive chiropractic education, preparing them to enter the field as doctors of chiropractic who are highly skilled, compassionate, ethical and successful. On its 80-acre campus in South Carolina, Sherman offers a first professional degree program unique in its approach to health care and known globally for the skill and art of chiropractic delivered by graduates. For more information, visit www.sherman.edu or call 800-849-8771.
For more information, contact:
Jillian Kersh, D.C.
Director of Continuing Education
Sherman College of Chiropractic
Phone: 800-849-8771, ext. 229
E-mail: jkersh@sherman.edu