San Diego, Australia

Academy of Chiropractic Philosophers

Programs Conclude
Eleven chiropractors recently earned the Academy of Chiropractic Philosophers (ACP) designation, completing the coursework in Sherman College's ACP program on October 28-29 in San Diego, CA. Each received a certificate and medallion of completion.
In addition, 11 others earned the ACP designation after completing coursework in Australia on November 11; this particular program was hosted jointly by Sherman College of Chiropractic and the New Zealand College of Chiropractic.
The ACP is a one-year course designed to enhance the understanding, depth, and breadth of chiropractic philosophy. Sessions challenge the thinking process and the application of philosophy in the chiropractic profession. Successful completion of the 100-hour program leads to membership in the prestigious Academy of Chiropractic Philosophers, and the ICA Council on Philosophical Chiropractic Standards accepts the successful completion of the ACP for 100 hours toward its Diplomate in Philosophical Chiropractic Standards.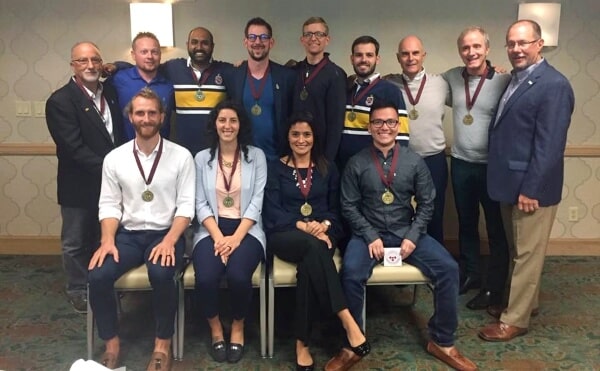 The San Diego ACP contingent includes chiropractors (standing, from left): Jack Bourla, program instructor Rick Brescia; Ankur Tayal, Skylar Gemmer, Jeremy Steel, Matt Santos, René Lafrenière, Normand Riendeau, program instructor Bill Decken; (seated, from left): Didier Dupas, Nikie Dupas, Jeanett Tapia and Ric Aranza.

The New Zealand contingent includes chiropractors (from left): program instructor Phil McMaster, program instructor Bill Decken, Euan McMillan, Hayden Belle, Peter Maccora, Marcus Chacos, Jess Djalikian, Aaron Scott, Miranda Moorghen, Matt Doyle, Patrick Sim, Ryan Seaman and John Trowse.
If you would like more information regarding the ACP program or are interested in hosting a group of 20 or more chiropractors in your area, please contact Ashley Valladares in the Office of Academic Affairs at 800-849-8771, ext. 225, email avalladares@sherman.edu or visit www.sherman.edu/acp.