As the newest member of the Sherman College Admissions Team, I did not know what to expect when I hit the road in early September. With great preparation from Will and Jacob, I set off on a multiple trip stint for a month on the road.
The first stop was the University of Iowa. I am a born and raised Minnesotan, so being back to familiar territory was welcomed. In Iowa I met with countless students excited to learn about Sherman as well as chiropractic. I was one of five chiropractic colleges visiting this school, so students learned about the vast options in the field. I also got to meet with two career counselors that recommended a great BBQ place on campus. My Iowa trip ended with a quick visit with an accepted student. We talked about our upcoming Showcase Sherman Weekend he is attending and answered his eager questions about this exciting next step.
After Iowa, I spent some time in Indiana at Indiana State University. Between the fair, career counselor meetings, and visiting with students, Sherman's philosophy was spread so much over the course of the day. I even had the opportunity to meet with University of Indiana's MAPS student organization with Dr. Princess Porter-Fowler. She shared her Sherman and chiropractic journey and made a lasting impression on a great group of individuals.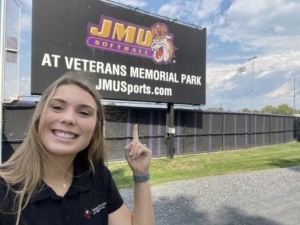 After Indiana, I was on the road again to the great state of Virginia. This was a place I had never been before. The rolling mountains of James Madison University's campus was a beautiful sight. The five-school fair was busy and efficient as students were curious learning about what Sherman had to offer. I then got to meet with an articulation agreement school, Emory and Henry. With Dr. Joe Donofrio in attendance, we spoke to the pre-health club. This was a great meeting as the students got to learn about out 3 + 1 agreements as well as Dr. Donofrio's journey.
Last but certainly not least was my trip to the University of Kentucky. Their career center put on a career fair that ended up being my favorite part of my month of traveling. I was able to engage a lot of students and overall, it was a great success!
I would love to help arrange for someone from Sherman College to visit your school, and we'd love to help you on your journey to chiropractic college! If you have any questions, please reach out to me at bmclean@sherman.edu or 864-578-8770, ext. 323.