Founding a Company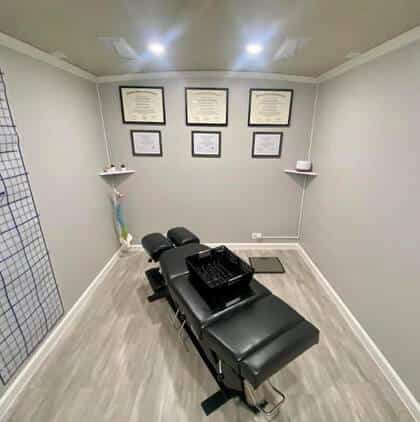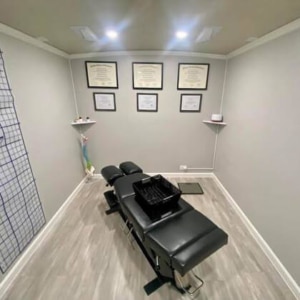 When ICU and ER nurse Luis Alvarez discovered chiropractic's approach to health care, his career and his life soon took a major shift. He discovered his passion in chiropractic's approach to addressing health proactively, rather than focusing on the treatment of symptoms. Alvarez, who originally lived in Colombia, South America, before becoming a nurse in Puerto Rico, saw the chiropractic profession as a way to help others. This shift in perspective motivated him to strengthen his healthcare pedigree; he graduated with his doctor of chiropractic degree from Sherman College in 2018.
Along his path studying chiropractic at Sherman, Alvarez met Samuel Feinberg. The two formed a strong friendship that would later lead them to establish ChiroDuo together. Alvarez possessed strong clinical expertise, and Feinberg brought his own language and cultural savvy to the table. Their inspiration in founding ChiroDuo was to provide culturally competent health care to an underserved minority population: the Hispanic community.
Feinberg, who is not Hispanic, had sought out the opportunity to fully immerse himself in the Spanish language and Hispanic culture by living one full year in Costa Rica. He says this changed the trajectory of his life as he witnessed firsthand how his host family embraced him and sacrificially cared for him. When he completed his doctor of chiropractic degree in 2018, he aimed to use his new skills and his love of the Spanish language to give back to the community that had already given him so much.
ChiroDuo soon thereafter became a trio with the addition of Jesus Estrada, a 2019 Sherman College graduate. He joined the company as an associate doctor in February 2021 and has been delighted to offer his services in his native tongue to a community who so desperately needs the care.
Focusing on the Hispanic Community
ChiroDuo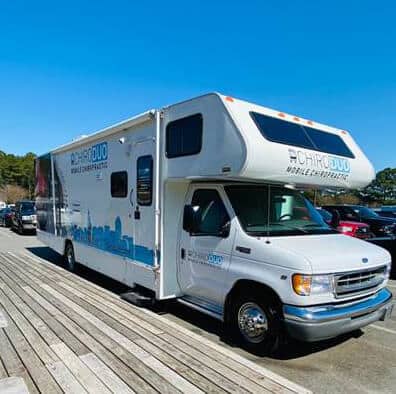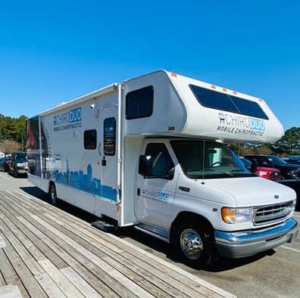 currently provides healthcare promotion, healthcare education and quality chiropractic care for the Hispanic community in locations across Raleigh-Durham, NC, through one office location and three fully equipped mobile clinics. On Fridays, Saturdays and Sundays, the bilingual doctors conduct three mobile clinics in three different cities. Doors are open to the communities they serve from 8 a.m. to 5 p.m. by appointment.
Feinberg says approximately 95 percent of ChiroDuo patients are from the blue-collar working class; these Hispanic men and women involved in heavy construction, cleaning and restaurant services often utilize ChiroDuo's bilingual team as their primary health care resource.
The company stays well connected within the Hispanic community in Eastern North Carolina because it is one of very few businesses that direct all of its resources and efforts to this demographic. "ChiroDuo has been able to leave a strong footprint in the community," Feinberg explains. "Since opening our doors in the first week of March 2020, we took our clinic to the streets in an effort to make the service more convenient."
The mobile clinics saw a surge of business during the rise of COVID-19 as many patients were afraid to visit urgent care centers and hospitals. During this time, ChiroDuo became a primary health care provider to its communities, offering non-invasive health care, health promotion and patient education.
ChiroDuo recently formed a partnership Mako Rx to provide Hispanic small business owners the opportunity to offer health care services for their employees. Internationally, ChiroDuo partners with The Consulate of Guatemala for a program called "La Ventanilla de Salud" that provides health care services to rural communities. ChiroDuo is also a member of the Hispanic Contractor Association of the Carolinas.
A Trailblazing Vision for Business Success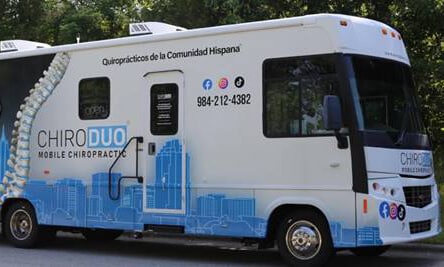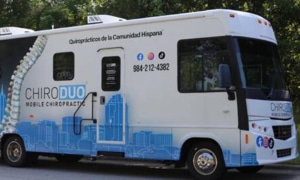 Feinberg says the vision ChiroDuo has constructed and polished since its inception is twofold. "First and foremost, our vision is to blaze the trail in continuing to develop a mobile business model with which to promote health care education and prevention within the Hispanic community," he explains. "Our vision also seeks to provide an avenue by which Spanish-speaking chiropractors can serve the Hispanic community with a natural, drug-free approach to health care."
He says the company's low-overhead model is ideal for graduates who may be finishing their education with student loans. Rather than taking on additional business loans, lengthy lease contracts, or high equipment costs, ChiroDuo provides a mobile model with very low overhead costs and a flexible working schedule.
"Adopting our mobile model of business operations has come with great benefit," Feinberg says. "We can easily travel from location to location and serve the communities that most need and want our services. Additionally, our business model has much lower overhead to get started and to stay in business."
But most of all, Feinberg says the company makes its largest impact by offering attractive alternatives to both patients and doctors of chiropractic. "The opportunity to serve patients in their native tongue, pay back student loans and contribute to healthier communities is a door that we are working hard to open to future doctors," he says.