From Backyard to Barnyard, Chiropractic Supports Animal Health
Just like with humans, animal chiropractic focuses on keeping the spine and central nervous system healthy. If an animal's spinal bones, called vertebrae, shift out of place or don't move properly, the resulting misalignment can interfere with the nervous system, which carries messages from the brain to the rest of the body. This is called vertebral subluxation.
A vertebral subluxation can affect an animal's performance, well-being and health, potentially causing pain, stiffness, improper movement, unnecessary expenditure of energy, and even organ dysfunction. Certified animal chiropractors gently adjust animals to correct subluxations and help restore proper biomechanics and function.
Part of the Animal Healthcare Team
Increasingly, animal owners' concern for their animals extends well beyond providing the necessities of food, shelter and basic veterinary care to ensuring the long-term health, wellness and quality of life of their animals.
This shift in attitude and focus on better function is making animal chiropractors an integral part of the healthcare team for many animals. Helping animals live a better quality of life with better performance, less pain, easier movement and restored function is rewarding and meaningful for animal chiropractors. Even better, animal chiropractors achieve results without the harmful side effects that other interventions may cause.
Animal Specialty Offers Unique Options
Many chiropractors treating human patients have added pet services to their practice, giving new meaning to the promise of care for the entire family! Some animal chiropractors specialize in a particular category, such as small animals (house pets, exotics), large animals (horses, livestock), veterinary clinics offering complementary care, or even show and performance animals (working at event locations, such as dog shows, rodeos and racetracks).
Additional Training Required
Becoming an animal chiropractor requires additional certification beyond the doctor of chiropractic degree through one of five certification programs offered in the U.S. Students interested in this specialization often begin the certification process while still in chiropractic college. Here's a little more information about the process:
·         Certification is granted by American Veterinary Chiropractic Association (AVCA) or International Veterinary Chiropractic Association.
·         To become certified, you must pass an accredited 240-hour postgraduate program in animal chiropractic (5 programs nationwide).
·         You must also pass the AVCA written comprehensive and clinical competency exams.
·         Certified animal chiropractors must meet continuing education requirements to maintain certification.
·         State laws vary; check animal chiropractic regulations for the state in which you wish to practice.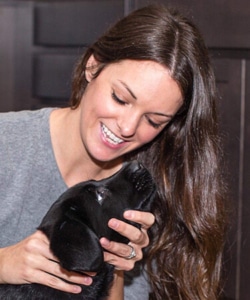 "The best thing about being an animal chiropractor is being witness to miraculous outcomes every day. It was a long road to get here, but every time you are able to save another animal's life through chiropractic care, it makes all the years of hard work worth it."
                Dr. Shannon Ruff, Class of 2018
               South Carolina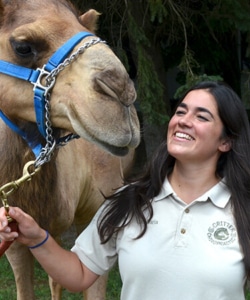 "My parents would always tell me that I had a bond with animals that they had never seen before, and I didn't think anything of it. I had barn cats, and one of my pet chickens would even hike with me. Animals have always been a big part of my life. As a chiropractor, it is the best feeling in the world seeing the joy and brightness in their eyes again."
                Dr. Maria McElwee, Class of 2014
                Pennsylvania