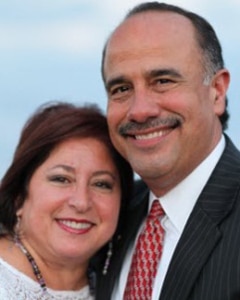 President Edwin Cordero, D.C., and first lady Debbie Cordero have received the prestigious Thom and Betty Gelardi Service Award from Sherman College of Chiropractic in Spartanburg, SC. Normally given at the sole discretion of the president, this award was created to honor the Gelardis and is presented to individuals to recognize a person's unselfish dedication, visionary leadership and pioneering spirit. The Board of Trustees chose to honor the Corderos for their many contributions to the college and the profession. 
Dr. Cordero is a 1993 graduate of Life University College of Chiropractic. Fluent in Spanish, Dr. Cordero practiced in Puerto Rico for a year before establishing a successful private practice in Boynton Beach, FL, in 1995. Dr. Cordero is dedicated to serving the chiropractic profession and has participated in humanitarian chiropractic mission trips; he served as a chiropractor for the Costa Rican team in the Central American Olympic Games for eight years. He frequently speaks at chiropractic associations, conferences, and other organizations around the world with the goal of inspiring and motivating chiropractors and students to make a positive impact in their communities and the world.
Since becoming Sherman College's fifth president in January 2013, Dr. Cordero and Sherman College have grown enrollment to more than 400 students, and he has accomplished many campus improvements, the most notable being the addition of the Drs. Thom and Betty Gelardi Student Center. Dr. Cordero could not have done all this without the support of his loving and devoted wife, Debbie.
Debbie Cordero shares the same passion for chiropractic as her husband. She has had a successful career, raised two children, and managed a home, all while supporting her husband's career path to becoming a chiropractor. After her husband's chiropractic graduation, the family moved to Boynton Beach, where she managed the day-to-day business of their private practice, including bookkeeping, scheduling appointments, occasional clinic work, and welcoming patients. Debbie has credentials in entomology and is a certified master gardener. Debbie's biggest passion is spending time with family and friends. The Corderos have two adult children, John Cordero and Michelle Schutrumpf, and five grandchildren.
Sherman College honored alumni, chiropractors, and supporters during its 49th Lyceum, a homecoming and continuing education event attended by hundreds of chiropractors and students throughout the U.S. and internationally. Lyceum is held each year and involves three days of seminars, special events and other programs. More than 650 people attended this year's event, held April 28-30.
Sherman College of Chiropractic provides students with a comprehensive chiropractic education, preparing them to enter the field as doctors of chiropractic who are highly skilled, compassionate, ethical and successful. On its 80-acre campus in South Carolina, Sherman offers a first professional degree program unique in its approach to health care and known globally for the skill and art of chiropractic delivered by graduates. For more information, visit www.sherman.edu or call 800-849-8771.
For more information, please contact:
Karen Rhodes
Senior Director of Marketing and Communications
Sherman College of Chiropractic
Phone: 800-849-8771, ext. 242
E-mail: krhodes@sherman.edu
Web: www.sherman.edu