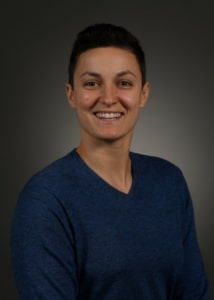 Meet Alex Coffey, a Sherman College student and Ambassador from just down the road in Greenville, South Carolina! Alex is an eighth-quarter student at Sherman College and an Army veteran.
Schools/Majors:
B.S. in Chemistry from Clemson University and M.S. in Biotechnology from Johns Hopkins University
Clubs/Hobbies/Activities:
I am a Thompson Club officer and I work as a personal trainer at a local gym near my house. I enjoy weightlifting in my spare time and almost all outside activities, especially water sports.
Why Chiropractic:
I started going to a chiropractor while I was in the Army to address lower back pain that turned out to be degenerative disc disease. I did not know much about the power of chiropractic until I started seeing a Sherman College graduate. Military service can take a toll on your body, but with chiropractic care, I noticed improvement in many areas – not just musculoskeletal. That was when I realized I wanted to be able to help people like me in the same ways. It came at a good time, because I was in the middle of a career change anyway.
Why Sherman College:
Sherman College was a huge change of pace for me because all of my education prior to this was at bigger universities with a huge student body and giant campus. I actually prefer being in this smaller setting because it allows for a more personal experience where all the professors know you and are willing to help—the same goes for the students. Everyone on this campus is open to helping each other, which is encouraging.
Plans After Graduation:
I plan to open my own practice somewhere in Greenville after I graduate.