Sherman College alumni have a diverse arsenal of expertise and significant preparation for success in the field, including top notch analysis and adjusting skills, a strong grounding in chiropractic philosophy, and a true commitment to successful and ethical practice.
These qualities make Sherman College graduates highly sought after in the chiropractic profession following graduation. It should come as no surprise, then, that Sherman alumni are among the first to recognize this fact and welcome fellow graduates to their practices. Just ask Allison Gardner, D.C., '12, Tyrone Wallace, D.C., '94, and Beth and Chris Ehlich, D.C.s, '90 and '89 – college alumni who have all brought on recent Sherman graduates to help serve their patients.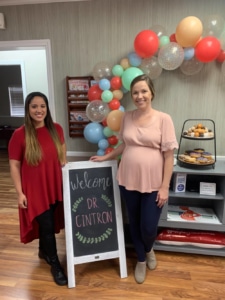 Allison Gardner, D.C., '12, and Jezlynne Cintron, D.C., '22
When 2012 graduate Allison Gardner of Newberry, SC, was looking for "the right associate," a colleague suggested she speak with then-student Jezlynne Cintron, who had been shadowing at the colleague's office. Gardner soon extended an invitation for Cintron to visit her office. "I knew from the first time I met her that Dr. Cintron would be a great fit," Gardner says. "Our professional relationship continued from that day and led her to completing her patient management elective at our office."
After Cintron finished her observational elective at Midlands Chiropractic, Gardner says, "I knew I did not want to see her leave." The elective course gave both doctors the opportunity to see if they would work well together. Cintron jumped right in to office procedures, helping with any large or small task, and asked "all the detailed questions."
Gardner says she saw and appreciated the new doctor's investment in chiropractic. "Her eagerness to help others, kind heart, work ethic, and knowledge of specific adjusting are just a few of many qualities that Dr. Cintron possessed," Gardner explains. "I knew she would be a great asset to our office, and my staff and patients absolutely adored her!"
A key quality Gardner had been seeking in an associate doctor was a Sherman College degree. "It was very important for me to hire a Sherman graduate," she shares. "I was open to hiring graduates of other chiropractic schools, but the ideal candidate would be a Sherman graduate. Our philosophy of looking to the spine first is huge in chiropractic practice. Having the same views of what chiropractic is will allow us to excel together in this profession."
The qualities of Sherman College graduates that Gardner finds most appealing are a shared chiropractic philosophy as well as strong skills in analysis and technique. "I love that we analyze the spine so similarly," she says. "Dr. Cintron and I find ourselves looking at a set of x-rays and coming up with a listing in our heads and then saying the listing out loud. We are always on the same page, and it is so much fun! I know if she sees one of the patients that I have been caring for over the past nine years that they will be in excellent hands, and I know that the patient will feel comfortable knowing our analysis and techniques are so similar."
Gardner says she feels "very blessed" to have met Cintron and to have her join the practice. "She is a great person, and thanks to Sherman College of Chiropractic, she is a phenomenal chiropractor!"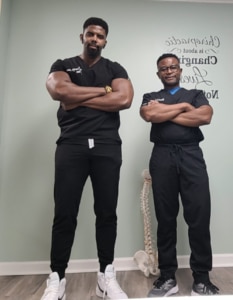 Tyrone Wallace, D.C., '94, and Reginel Simon, D.C., '20
When Reginel "Reggie" Simon was thinking about pursuing a career in chiropractic, he turned to 1994 Sherman College graduate Tyrone Wallace and asked to shadow him at PrimeCare of the Lower Pee Dee in Lake City, SC. The two hit it off well, and soon Wallace found himself writing Simon's recommendation letter for admission to Sherman College.
Simon returned to Wallace's office three years later as an intern to complete his practice management elective, continuing the partnership until his graduation in September 2020, when Wallace "hired Dr. Simon immediately" and where Simon has served as "my right hand" in the offices since that time.
Now in their second year of practicing together, Wallace reflects on why a Sherman College graduate was the perfect fit for his practice. "I am very proud of Sherman College for producing such a great chiropractor," Wallace shares. "I was led to extend Dr. Simon a contract because of his philosophy and understanding of chiropractic. It was very important for me to be able to offer a graduate of Sherman an internship and a job, because I know from experience that Sherman College produces some of the best chiropractors in the country."
Simon serves as an associate doctor in Wallace's two offices, and Wallace says he sees a difference in Sherman-trained chiropractors compared to other graduates. "I have hosted other students from different chiropractic colleges for internships, but Sherman College students are different," he explains.
"Sherman graduates have a strong understanding of the art, philosophy and science of chiropractic. Dr. Simon is well liked by all of our patients, and he always presents with a positive attitude every day. I am so appreciative of Dr. Simon and his chiropractic skills. I am proud that he is a Sherman College graduate."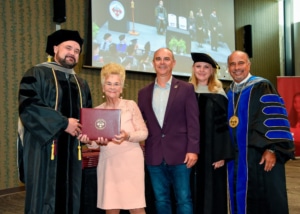 Beth and Chris Ehlich, D.C.s, '90 and '89, and Sammy Rivera, D.C., '22
Chiropractic couple Beth and Chris Ehlich also had the advantage of meeting their future practice member before he even enrolled at Sherman College. Sammy Rivera joined the couple's office, Ehlich Family Chiropractic in Greer, SC, about eight years ago as a technical chiropractic assistant, where he took x-rays and helped with patients. Rivera's background in in accounting and optical brought a wealth of professional expertise to the office.
"Although Sammy did not have much experience with chiropractic until he came to work for us, it was there in the day-to-day caring for patients that he saw what chiropractic could do for people, and he began to find his purpose," shares Beth Ehlich, who serves on the Sherman College faculty in addition to caring for patients at their chiropractic office.
"Dr. Chris and I both thought he'd make a great chiropractor," she says. "Little did we know he was considering the possibility of becoming one. When he told us about his decision, we were so excited for him to embark on this journey. We recommended Sherman College since it was our alma mater, and we knew he would get a great education at Sherman."
"Sammy the C.A." was a great fit in the Ehlichs' office for many reasons: he knew how to connect and relate to patients, plus his bilingual skills allowed the office to communicate better with their Spanish-speaking patients. "We saw that Sammy had 'that something special' and decided to offer him an associate position to continue to allow him to grow as a practitioner while joining our growing practice," Beth Ehlich says.
"It was really a natural flow from a great fit as a C.A. to a D.C. with his skills, commitment and excitement for this profession. Our office has experienced tremendous growth and we anticipate even more. With Dr. Rivera on staff, we can further achieve our mission to educate and adjust as many families as possible toward better health through chiropractic care."
The Ehlichs say they are thankful Rivera chose to attend Sherman College because they knew he would receive the highest quality chiropractic education. "As graduates of Sherman and as a current faculty member, my husband and I knew Dr. Rivera would receive high quality education and philosophy," Beth Ehlich explains. "The important considerations for us included philosophy and technique. And at Sherman, we knew he'd get both."
Ehlich also says the qualities of Sherman College graduates appealed to their practice as well. "It really matters that the graduate is committed to patient care, ethical behavior, solid philosophy, and excellent clinical and technical skills. All of these are taught at Sherman, and we know the level of high quality graduates produced by Sherman College.
"Dr. Chris and I are so proud of all the advancements and progress made at Sherman College, and we look forward to having Dr. Rivera utilize his skills to deliver chiropractic care to our town and surrounding areas."