Sherman College of Chiropractic recently honored Assistant Professor of Clinical Sciences Alan Brewster, B.S., D.C., A.C.P., '89, and Assistant Director of the Center for Innovation in Teaching and Learning Amy Carlson, B.S., in appreciation of their contributions, time and commitment to the college.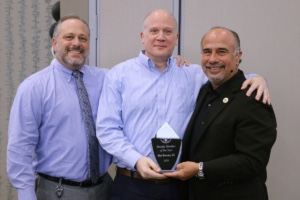 Dr. Brewster was named Faculty Member of the Year and is known on campus for his positive outlook and dedication to students. Vice President for Academic Affairs Joe Donofrio, D.C., '94, A.C.P., says the honor is well deserved. "Dr. Brewster serves the campus community on so many levels, but he is most well-known for going the extra yard for students," Donofrio said. "He is a course instructor, researcher, tutor and cheerleader. In his four years at Sherman College, he has easily put in eight years of work."
Brewster is a 1989 summa cum laude Sherman College graduate; he was valedictorian of his class and earned philosophy, clinical and academic awards at his graduation. He holds a Bachelor of Science degree in biological sciences-physiology from Cook College at Rutgers University (1986). Before joining the college faculty in 2017, Brewster practiced chiropractic for more than 25 years in Pennsylvania and New Jersey.
He served on the Sherman College's Board of Trustees from 2009-2012 and is a long-serving member of the Regent Program, a group of leaders and advocates who give visibility and stature to the college as well as provide financial support. At Sherman College, he teaches courses in Full Spine, Palpation, Clinical Applications of Evidence-Informed Practice, and Neuro-Functional Assessment. He is also active in conducting chiropractic research. The college honored him with the Spirit of Sherman College Award in 2019 and the Service to Sherman College Award in 2011.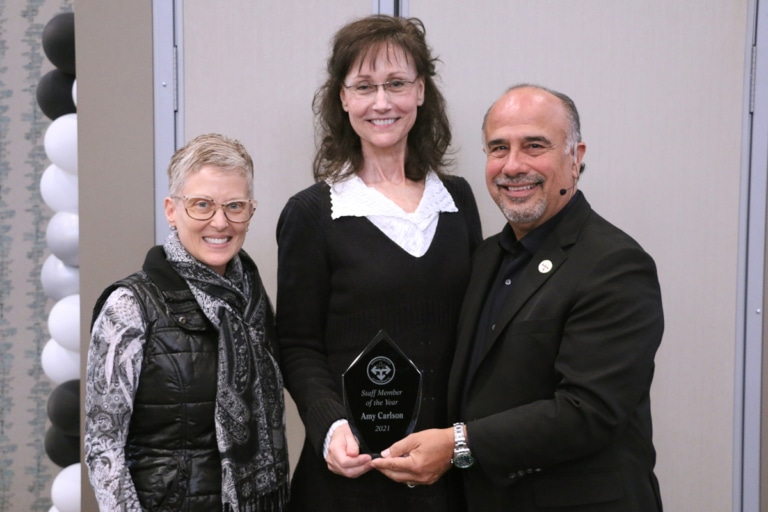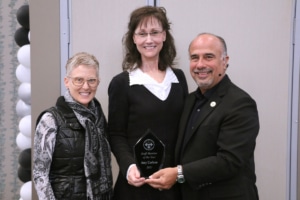 Carlson was named Staff Member of the Year, an honor she also received in 2019, in recognition of her unwavering commitment to supporting the needs of the Sherman College academic community. "Amy has a heart for service, and her dedication to supporting our faculty and students helps us create a culture of ongoing faculty development with a focus on excellence in teaching and learning," says Director of the Center for Innovation in Teaching and Learning Billie Harrington, Ph.D. "She has built strong connections with faculty and students and collaborates with many departments on campus."
Carlson joined the college in 2018 and has made an impressive impact in a short period of time. In her role at the college, she provides functional and technical support for programs directly related to classroom instruction, including the college's iPad program, iBook development and operational support, the Schoology learning management system, electronic testing and more.
Carlson has extensive experience in adult education, training, teaching, course and curriculum development and creating training resources. She holds a Bachelor of Science degree in business administration from Lander University and has an elementary education teacher certification from Clemson University.
Sherman College of Chiropractic provides students with a comprehensive chiropractic education, preparing them to enter the field as doctors of chiropractic who are highly skilled, compassionate, ethical and successful. On its 80-acre campus in South Carolina, Sherman offers a first professional degree program unique in its approach to health care and known globally for the skill and art of chiropractic delivered by graduates. For more information, visit www.sherman.edu or call 800-849-8771.