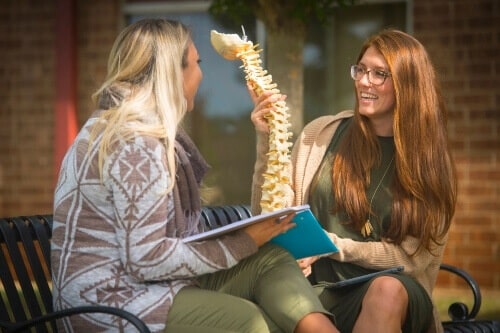 …you look around the room while you're studying at night and notice that you're keeping company with life-sized spines and vertebral models with bulging discs.
…one model spine is not enough, you must have a desk size as well.
…you consider taking your model spine to the coffee shop to study…
…you have a t-shirt that says "Chiropractic Student… just add coffee".
…you are taking "Standard Processing" Adrenal Support supplements to get you through the quarter.
…you proudly know how to do the "Toggle Dance"!
…your "pick list" for Anatomy lab is getting…um…stained.
…you have intense discussions with fellow students about what Universal Intelligence is.
…and you wonder whether the chiropractor moves the vertebrae or if innate does the work?
…you love how B.J. made up words when he wrote and wish you could too…
…you wonder which is most important; the art, the science or the philosophy of Chiropractic?
…you and your fellow students discuss the concept of the "three-legged stool."
…you have a lab coat that reeks of formaldehyde.
…you wonder whatever happened to Mabel?
…you think about having crazy collections of things like B.J. did.
…you wonder if it's easier to be an intern than to study the "hard sciences."
…you hope your intern will pass their hard-earned knowledge and wisdom down to you!
…you wonder whether Uncle George will let you adjust him someday?
…you have a dog named…B.J., Mable, Palmer, Sherman or Logan.
…you see health as an expression of life not an absence of disease.
…YOU CAN'T WAIT TO DO YOUR FIRST ADJUSTMENT!!!!
…and last but not least…YOU'RE SURE YOU CAN CHANGE THE WORLD AND MAKE IT A BETTER PLACE, ONE SPINE AT A TIME!!!