A campus visit could help you decide which chiropractic college is right for you.
Are you thinking about become a Doctor of Chiropractic? Or, maybe you have already decided that this is the career for you. If either one of these describes you, it may be time to take a trip and visit Sherman College of Chiropractic!
Many factors go into becoming a student in the D.C. program. Some examples include:
Academics and preparation to gain admission into the program
Time that it will take to complete prerequisites and the program itself
Cost of tuition and living expenses, and where that money may come from
And, arguably one of the most important decisions, where you will ultimately attend chiropractic school
Once you figure out your career goals and the path to get you there, the ultimate decision comes down to where you choose to go to school. Many, many factors can and should go into this decision, and it is not one that our students take lightly or base off one factor alone.
Some deciding factors may include:
The philosophy of the college, the faculty, and how they teach the curriculum
Where the school is located and the cost of living in the area (this can affect the amount of loans you take out and how much money you will need to live)
The cost of tuition for the entirety of the program
Statistics on the school and how well it prepares students for their board examinations; graduation and attrition rates; and how long it takes for the average student to complete the program
The types of resources that the school provides to support their students both personally and academically
The faculty to student ratio
…and many, many more!
One, or maybe even multiple schools, may have all of the answers that you are looking for, leaving you ready to decide which program you will choose. We believe that the best and only way to do this is by visiting the schools that interest you and getting a feel for the overall campus environment.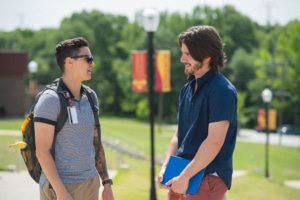 It is important that the school that you choose make you feel like a part of their family, as you will be spending the majority of your time there – and with the students, staff and faculty – for the next several years of your life! A campus tour is one of the best ways to determine this intangible but important factor.
Here at Sherman, we believe in this so much that we make it as easy, and as cost effective as possible, for you to visit our campus. We encourage students interested the program to visit campus anywhere from 1-2 years in advance of when they plan to enroll. This timeline is important because we share information that may change from year to year and we want to ensure that you are getting the information that will be most applicable to you and your enrollment goal!
Requesting and setting up a campus visit can be done in less than 5 minutes. You can go online here, fill out your information, and pick from a list of available campus visit dates that works for you! From there, for qualified students, we will make hotel arrangements for you and pay for a one-night's stay the night before your visit.
We encourage you to check out the area while you are here so if you wish to stay additional nights, we can book these dates for you as well and you will receive the college's discount on the additional nights. We will then send you an email confirmation with all of the important details about your upcoming visit.
Your counselor will contact you to ensure that we have all needed documents and to answer any questions that you may have. Once your visit is over, we will reimburse qualified students up to $300 for any travel expenses that they may have incurred. See what I mean? Easy and cost effective!
We often get interest from high school students or from students who are just starting their undergraduate academic career. We recognize that these types of students need a different visit style so that they can get information that is most applicable to them. Currently, our team is working on a separate visit for students who are still in high school or for those who may have recently graduated high school.
In the meantime, we encourage you to reach out to our office and we will set up a visit, whether on campus or virtually, that will be the most beneficial to you! You can email us at admissions@sherman.edu or give us a call at 864-578-8770 ext. 760
Are you ready to visit campus? Sign up for a campus tour here and come experience Sherman College of Chiropractic!