Dr. Shaneen Brown's specialization in pediatric and pregnancy chiropractic developed as a natural consequence of her success with pregnant patients she treated early in her practice.
"Chiropractic care allows the expecting mother to better handle some of the discomforts that may come with pregnancy, such as lower back pain, shoulder discomfort or muscle tension," said Brown, noting these are natural occurrences for a woman's body as her baby grows. "However, some moms may have a hard time adjusting to these possible complications compared to others. I have found that consistent chiropractic care will help patients best adjust to the changes their bodies are facing."
Helping Pregnant Moms Adjust
During her studies at Sherman College, Brown learned the Webster Technique, which she
uses in practice to assess patients' sacral iliac region, commonly referred to as the SI joint. Once she educates her pregnant patients on why they may be experiencing certain issues related to pregnancy, they understand the benefits of being adjusted. "It's a beautiful thing to watch them transition," Brown said.
Experience is the Best Teacher
Brown made the decision to pursue her Doctor of Chiropractic degree because of her own experience with chiropractic care. She was involved in a car accident and was frustrated that the only options for dealing with her pain involved the use of powerful medications that "might" provide relief. Impatient with the slow pace of healing, Brown turned to chiropractic.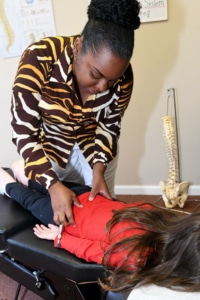 "I wanted the type of care that would allow my body to heal naturally," Brown said. Soon after she began chiropractic care, she experienced a considerable decrease in her pain level and a noticeable improvement in her joint mobility. "After receiving chiropractic care and seeing my overall health improve, I wanted to share the same information with others. So, here I am."
Learning the Lessons of Chiropractic
Learning the science of the nervous system and the techniques for effective chiropractic adjustments weren't the only important topics Brown explored at Sherman College. Hundreds of hours working with patients in the Sherman College Chiropractic Health Center taught Brown important lessons in how to manage patient care, how to provide precise and accurate adjustments and how to adapt to meet the needs of the patient.
"Being an intern at the clinic helped set the foundation of patient care, and then it became my responsibility to build on that," Brown said.