Serving Others Makes for a Fulfilling Life
Many Sherman College alumni will tell you that chiropractic is more than a job… it's a calling that gives them a sense of purpose. Doctors of chiropractic serve the people in their communities, sharing a valuable philosophy of life and health. As consumer demand for a more natural, less invasive approach to health care continues to grow, the service chiropractors provide remains in high demand.
Giving Back for a Healthier World
Sherman College students consistently say they entered the chiropractic profession because they want to help people. They often choose to return to their hometowns and home countries to expand access to chiropractic in areas where populations may be underserved. They desire to be an integral part of improving healthcare in their communities and putting others on the path to optimal health.
Service is Part of Our Mission
While Sherman College has a unique focus and mission preparing students to become a Doctor of Chiropractic, it also has much to offer through service to others. Service is one of the three ways in which we accomplish our mission and is a key component in how we engage the local community. We teach our graduates to do the same when they begin in practice.
Serving as a Student
Sherman College's on-campus Health Center provides chiropractic care for nearly 25,000 patient visits annually. It allows interns to help improve the lives of thousands of individuals in our community, including patients in need and those who do not have insurance and do not qualify for public assistance. In addition, community service clubs and volunteer programs help our students, faculty and staff to make a larger community impact and engage and serve in meaningful ways.
Getting Involved Locally
As a chiropractor, the calling to help others extends far beyond the walls of your practice. Sherman College students learn that contributing to their community and sharing their gifts is good for them and the chiropractic field. They experience the joy of giving back and develop a deeper sense of purpose.
Whether you conduct spinal screenings at a local health fair or give a talk about chiropractic at a community organization, your efforts not only support the health of the community, they also help you hone your skills and build your confidence for success in practice.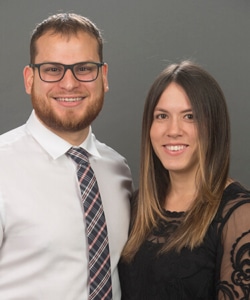 "What called us to serve in Puerto Rico was the lack of knowledge and the misconceptions that people have about chiropractic, and knowing that so many people have lost hope for their health. We had the opportunity to open the first and only Upper Cervical Clinic in all of Puerto Rico."  
Drs. Christian Ortiz & Jennifer Sotomayor, Class of 2018
Puerto Rico