Five of Sherman College's key marketing and communications projects have been recognized at the national level, with one receiving second place honors and four others taking home honorable mention prizes in the National Federation of Press Women (NFPW) Communications Contest. Before advancing to the national contest, an annual competition that encourages and rewards excellence in communication, these entries won first-place honors in Media Women of South Carolina's statewide contest. This year's NFPW contest included more than 2,000 entries from across the U.S.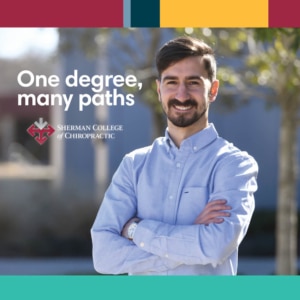 The college's chiropractic career piece took second place in the nation in its category (brochure – nonprofit, government or educational). Earning honorable mentions were four college projects: Sherman Shares (writing – nonprofit, government or educational newsletter), an admissions webpage for high school students (web and social media – web copy), a series of sports-focused ads (advertising – ad campaign), and a speech for Lyceum 2021 (speech).
Senior Director of Marketing and Communications Karen Brower Rhodes, M.B.A., led the development and production of these projects in 2021 as part of Sherman College's outreach for several departments, including Marketing and Communications, Admissions and Institutional Advancement.
This is not Marketing and Communications' first time receiving honors from MWSC and NFPW. In 2021, the college had six entries in the national competition, all earning national honors, including a first-place prize for the Sherman College Brand Guide. Additional projects have been recognized nationally throughout the years, with a print piece for prospective students also earning top honors in 2014.