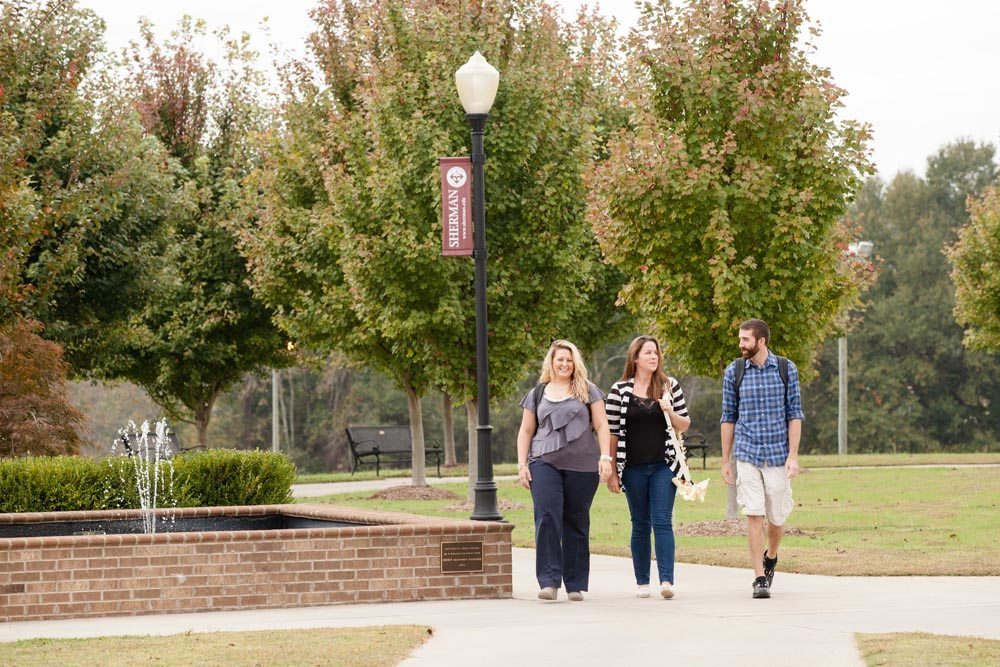 If you're interested in pursuing a rewarding career in chiropractic, you might already know that you'll need to complete in-depth studies before you can reach your goal. At Sherman College, for example, you'll need to finish about 4,800 clock hours before you can graduate as a doctor of chiropractic.
You'll need to learn about the philosophy of chiropractic, how to use cutting-edge digital x-ray technology, how to perform specific adjustments to help the body correct vertebral subluxations, as well as many other important subjects. But that doesn't mean that studying at Sherman College is only about coursework. In fact, our friendly campus and small class sizes help you feel welcome and supported throughout your studies. You'll know both your instructors and your peers, and will have plenty of opportunities to participate in school clubs, community sports teams, and many other on campus activities.
But what does that education look like on a day-to-day basis? What would it really be like to be a student at a top chiropractic school? Read this blog to find out!
Start Your Morning at Chiropractic College With in-Depth Classroom Theory
If you were a student at Sherman College, your day might start with a course in neuroanatomy, chiropractic technique, philosophy, or one of the many other classes that constitutes a Sherman College education. At Sherman College, you don't just learn the theory behind vertebral subluxation, you also learn the art of performing precise, specific adjustments, and the philosophy, or the "why," of chiropractic. You'll even develop business success and communication skills so that you are prepared to open your very own practice after graduation.
Let's imagine that your first course of the day is Subluxation Theories. During this class, you might spend the morning discovering the past and present research on the science of vertebral subluxations, and how those theories are an important part of chiropractic. Or perhaps you'd start your day with a course in clinical case management, where you'll learn how to manage patient cases and perfect your doctor-patient interaction skills.
Take a Break at The Farmer's Table in Between Classes
After your first class ends, you might have a small break before your next class. You could decide to use that time to ask your instructor a few questions, or maybe even pop into Sherman College's extensive library for a quick study session.
Once it gets close to lunch time, you might want to use your break to grab a quick bite with some friends at The Farmer's Table—Sherman College's on campus café. At The Farmer's Table, you could enjoy a tasty meal made fresh using produce from local farmers. You could chat with your friends about an upcoming assignment you might all be working on, or discuss the rewarding career path you'd like to pursue once you've completed your chiropractor training.
Get Hands-On Chiropractor Training at Sherman College's On-Campus Clinic
Hands-on training is an important part of any Sherman College education. That's because we know that the best foundation for your future chiropractic career is one that teaches you the theory behind chiropractic, as well as the practical skills chiropractors use on a daily basis.
Many of your daily classes will include hands-on work so that you can fully learn the art of chiropractic. But that's not the only hands-on education you'll receive. At Sherman College, our upper-quarter students also get hands-on experience working with real patients, right in our on-campus chiropractic clinic. Our newly-renovated student clinic will also play an important role in your chiropractic education, giving you the experience you need to make a smooth transition into a rewarding chiropractic career.
As a student intern, you'll work under the close supervision of a licensed doctor, and take patient histories, perform examinations, and perform the specific adjustments your patients need to maintain health and function at their best.
Enjoy an Evening at Chiropractic College
When you pursue studies at Sherman College, your day doesn't have to end when classes do. Our thriving campus community is filled with clubs, and other extracurricular activities for students to enjoy. Whether you want to deepen your faith and love of chiropractic at the Christian Chiropractic Club or build up your network by joining international organizations like the World Congress of Chiropractic Students—there are plenty of opportunities for students to explore their interests.
You might consider listening in on Sherman College's free chiropractic conference calls every Monday night, or perhaps get some exercise on our beautiful 80-acre campus. The choices are endless for students at chiropractic college.
Are you ready to begin your education at a top chiropractic college?
Discover why our students love studying at Sherman College by booking a visit to our beautiful and friendly campus.