Using the Tools of the Trade
At Sherman College, students are exposed to cutting-edge concepts that expand their body of knowledge and add to their "toolbox" of techniques. You'll have access to the latest technology, both in the classroom and during your internship in our on-campus Chiropractic Health Center. By the time you graduate, you'll be ready for whatever your practice brings you – from high tech imaging and adjusting tools to electronic health records and the latest software programs.
iSherman Initiative Transforms Learning
Our iSherman initiative, led by the college's Center for Innovation in Teaching and Learning, gives students access to the latest technology, transforming the curriculum and enhancing learning. On orientation day, you'll receive a free iPad, fully loaded with everything from syllabi to iBooks and video tutorials. Faculty use the latest technology to make courses come to life, improving the learning experience and helping students succeed as they navigate a challenging academic program.
Technology for Enhanced Patient Care
Sherman College has long been known for embracing emerging technology in patient care and chiropractic education. We are committed to bringing the newest technology to our curriculum, including our on-campus Chiropractic Health Center. This helps us provide the best possible patient care and prepares our students to utilize the most advanced equipment in patient care.
Digital Radiography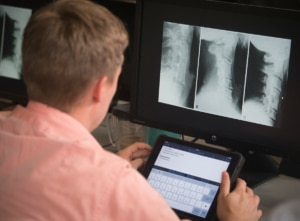 A chiropractor's primary concern is with the healthy and proper functioning of the human body, and getting a detailed look through x-rays and imaging can tell us a lot about a patient's nerve function. Sherman was the first chiropractic college on the East Coast to incorporate digital x-ray into its curriculum and Health Center, applying its many advantages that are all but impossible with traditional film and view boxes. 
Cone Beam Computed Tomography (CBCT)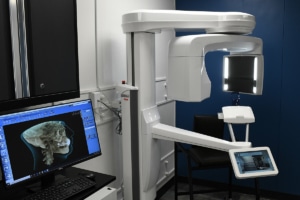 Sherman College is proud to be the first chiropractic college to pioneer cone beam computed tomography (CBCT) in its Health Center. Installed in 2020, CBCT is a radiographic imaging method that allows accurate, three-dimensional imaging of hard tissue structures to help us get an extremely thorough view and understanding of the upper cervical region (the bones at the top of your spine). This technology allows us to study the human spine and vertebral subluxation in greater detail, while offering patient care that is extremely focused and specific.
"Adding new technologies that make chiropractic care more effective further enhances our doctor of chiropractic program and increases engagement and research opportunities within the profession and the community."
Dr. Jaime Browning, Class of 2009
Chair of the Technique Department at Sherman College